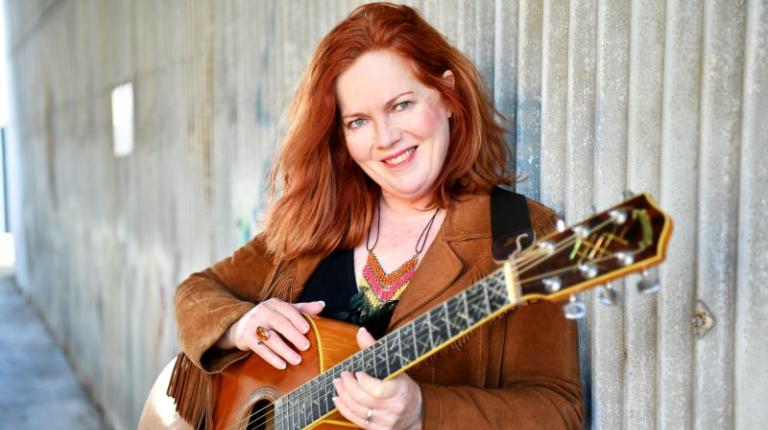 Victoria University's first music artist-in-residence, Sherry Rich, will perform songs from her new album The Divine Crimson V at a free concert on Friday 26 November at VU's music campus at Kindred studio in Yarraville.
The ARIA-nominated Ms Rich has been creating music in roots, country, folk and rock since 1985. She worked as a songwriter in Nashville for 10 years, motivated to make the move by one of her former high school classmates, Keith Urban.
"Nashville had been the place to go then if you were a songwriter. I got paid to work with other writers and I learned to share and experiment with my ideas."
Upon returning to Australia, she joined VU first as a student in its Creative Arts degree, then as a mentor to up-and-coming musicians in VU's music programs. The move from student to staff came after she met Dr Greg Aronson, a long-time senior lecturer in VU's music programs, during her study-tour to China.
"Greg wanted me to help VU's music students gain experience in the industry, so I became manager of the VU Music Agency, which represents and promotes VU students for professional engagements.
I encourage students to know their worth and feel intrinsically that their work is worth it. I try to impart knowledge about the things I wish I knew in my 20s, like taking care of money better and focusing on image and branding, as well as the musical product."
Illustrious VU music graduates
Several VU music graduates have gone on to high-profile careers including:
Concert details
Date: Friday 26 November 2021
Times: 
6pm: Art opening & mingling
8pm: Sherry Rich & band onstage.
Location: Kindred Studios, 3 Harris St Yarraville, Victoria (Google map).
An art exhibition, Illuminated lyrics, inspired from the manuscripts of William Blake, traditional Chinese water colour and calligraphy, Byzantine iconography, early American tattoos, botanical and bird paintings and Feminist art will accompany the live concert.
Vinyl albums and art works will be for sale on the night.
Book tickets for the album launch and art exhibition.
Learn more about Sherry Rich and VU's Music Artist in Residence program.