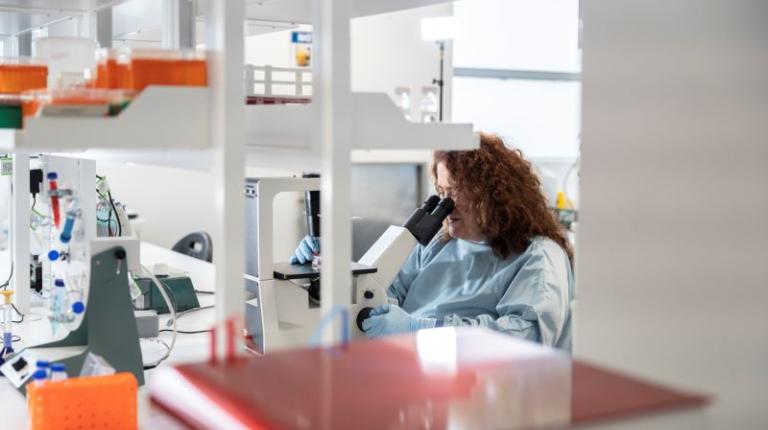 Researchers based at Victoria University's (VU) Werribee campus are adapting a unique patented vaccine delivery technology they developed to create potential vaccines against COVID-19.
A patented technology was previously used to develop vaccines against cancer, diabetes, MS and other diseases. Work is now being done with a modified technology to create potential vaccines to target the COVID-19 virus.
"Australia's public health leaders and the community have done a remarkable job in stopping the spread of COVID-19," says VU's Professor Vasso Apostolopoulos. "But we can't truly defeat COVID-19 until we have effective drugs and vaccines."
Vasso leads the Immunology and Translational Research team, in VU's Institute for Health and Sport. For the past month, they have been working hard to combat COVID-19, identifying potential vaccine candidates and investigating other components of the virus.
A special research allocation from VU supported the team's work, but now they are seeking public support to fast track the research from the laboratory to trials and the clinic.
"Our approach is different," Vasso says. "We're building on the basics, on our underlying knowledge of the human immune system to fast-track drugs and vaccines."
Vasso's vaccine research credentials
Professor Vasso Apostolopoulos was born in Footscray, attending University of Melbourne where she found an interest in research and completed her PhD.
This led her to Oxford University, the Scripps Institute in San Diego, and in Melbourne at the Austin Research Institute and the Burnet Institute where she further enhanced her skills.
Now she has returned to her roots in the West where she has created a highly qualified and diverse biomedical research team at Victoria University's Werribee campus. She also serves as Pro Vice-Chancellor, Research Partnerships at VU, building on her previous experience as chief scientist for 4G Vaccines.
Vasso and her team have previously developed and trialled vaccines against breast cancer and ovarian cancer, also developing ten candidate vaccines ready for trial against multiple sclerosis (MS).
They are also using their immunology knowledge to develop vaccines against juvenile diabetes and methamphetamine (ice) addiction and are exploring the links between the immune system and mental health.
This broad portfolio of vaccine research is possible because the team have a number of patented vaccine technology platforms that enables them to quickly create vaccines to either enhance or dampen down our body's response to immune challenges. 
"We knew we were on to something when, in our first trials we saw that our vaccine was boosting the patients' immune cells," says Vasso.
Vasso and her team at VU are also working together with the University of Patras and NewDrug in Greece, using her novel vaccine delivery system to tackle MS.
In response to the current global emergency, Vasso and her team are focusing their efforts on responding to COVID-19, investigating and working on vaccines and drugs to treat the virus.
"We know we're on the right path to find the coronavirus vaccine, we just urgently need your help to fast-track the research from the laboratory to trials," she said.