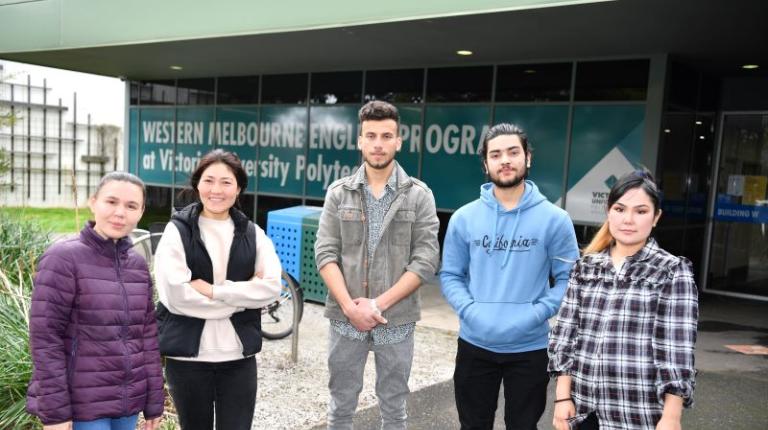 Victoria University (VU) has long welcomed students from around the world, including those seeking safety in Australia as asylum seekers or refugees.
Its Western Melbourne English Program (WMEP) currently hosts about 100 students as they learn English or embark on a range of vocational training at the Footscray Nicholson, St Albans, Sunshine or Werribee campuses of VU's TAFE division, VU Polytechnic.
Classrooms are a mini-United-Nations of students from Sudan, Somalia, Myanmar, Sri Lanka and more, with people from Afghanistan and Ukraine the most recent groups to arrive.
Afghans evacuated for safety
About 30 Afghan students have enrolled since last September, arriving through the Australian government's emergency evacuation program offered to thousands of nationals after the Taliban took control.
WMEP's Afghani students include six young women forced to flee because they were involved as players or officials with the now-outlawed Afghan Women's National Soccer team.
Most arrived without any family.
With the help of VU partner, Melbourne Victory Football Club, and human rights advocate and former Socceroos captain Craig Foster, these women are now playing on a Division 4 Victorian team set up just for them: the Melbourne Victory Afghan Women's team.
Students Saleha Rezaie, 25, and Oranos Haidary, 22, play on their new team as a defender and a forward respectively.
Like many other recent Afghani evacuees, both had their humanitarian visas fast-tracked to permanent residency. However, with their families still behind, they remain uncertain about their futures in Australia.
Oranos hopes to work in computer science after earning a degree in that field in Afghanistan, while Saleha is focused on improving her language skills.
Fellow students and compatriots, Sayed Sadat, 19, and Ahmad Aman, 20, both left Afghanistan in large family groups, and both aim to go to university for information technology careers.
Three generations of Ukrainian women
Another student, Yulia Nimets, 34, arrived from Ukraine only six months ago with her mother and grandmother to settle with relatives already in Australia. All three generations of women commute together to the Sunshine campus three times a week to study English at different levels.
With her father behind aiding Russian resistance forces in her hometown of Kremonchuk, Yulia is hopeful she can someday return home. For now, she is busy improving her English and working part-time in a warehouse.
VU Polytechnic offers a wide range of support to help students seeking asylum better cope with their financial, emotional and mental challenges. This includes a website with information about support and courses, a dedicated liaison officer, and an employment program, New Horizons.