VU Polytechnic Apprentices recieve Master Builders South West Regional Apprentice of the Year Awards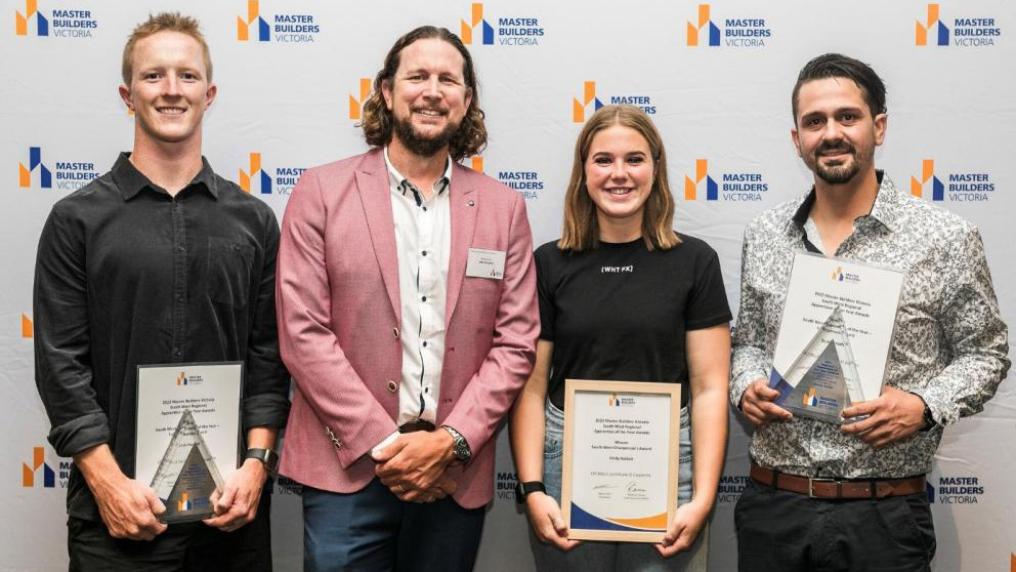 Geelong apprentices have been honoured for their achievements at the 2022 Master Builders Victoria Regional Apprentice of the Year Awards.
Friday 25 March 2022
Geelong apprentices have been honoured for their achievements at the 2022 Master Builders Victoria Regional Apprentice of the Year Awards. There were three major awards given out on the night, with Victoria University Polytechnic (VUP) apprentices taking out two of the three awards.
Held at GMHBA Stadium, Geelong, on Thursday 17 March, the awards celebrate the South West region's building and construction apprentices and the achievements they have made over their careers and the 2021 academic year. More than 200 guests attended the COVIDSafe event, including MBV President Mark Little and Geelong Section Chairperson Anthony Lococo.
Jack Purcell was awarded the Geelong Apprentice of the Year Future Builder Award while, the Geelong Chairperson's Award was awarded to Emily Button.
Nominated by VUP and employed by M.J. Rodgers Building, Jack got a taste for his trade early through working with his father. Having a curiosity for building homes, Jack decided to begin his apprenticeship and has never looked back.
The judges were impressed by Jack's forward-thinking, with goals to one day become a registered builder and take on a business of his own.
Jack is determined to reach his ambitions for the future and is ready to put in the hard work," they said. "Jack is interested in broadening his knowledge and learning more about the business side of his trade. He is extremely driven in his apprenticeship and is excited for what the future holds.
Nominated by VUP, Emily decided to give her apprenticeship a go following high school and has loved it ever since. Whilst working with her employer, PB Builds Pty Ltd, the judges said Emily gets the privilege to build specialty homes for individuals in need.
Master Builders Victoria is committed to promoting gender equality in the workplace and building and construction sites. We are making good progress, but we need to encourage more women like Emily to become fully qualified master trades.
Finding great reward in her job, Emily loves to see individuals use their homes which she has assisted in building. Having a portfolio including ramps and aided bathrooms, she has truly found joy in each of her projects. Through this, Emily has been able to pour her heart into each build, demonstrating her passion for the trade. Despite facing adversity as a female in construction, Emily is proud of her development over her apprentice journey, with hopes to continue progressing her career.
Apprentices were nominated by their TAFEs and RTOs, and those who were nominated as best overall attended an interview with a panel of judges. Well done and congratualtions to Emily and Jack!