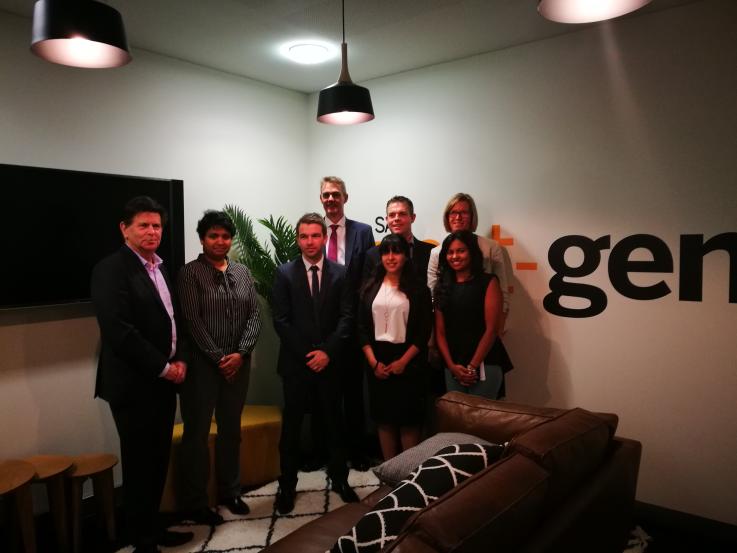 Victoria University, in collaboration with enterprise software corporation SAP, have launched Australia's first SAP Next-Gen Lab.
The SAP Next-Gen Lab, which will create vital connections between students and industry, as well as building the digital skills needed to solve 21st Century's business problems, was officially opened by Professor Colin Clark (Dean of the College of Business) and Dr Scott Bingley (Director of Victoria University's SAP Next-Gen Lab).
The well-attended event at VU City Flinders included current students, alumni and special guests, Bruce McKinnon (SAP – Head of Digital Business Services), Steven Owens (AusNet Services – Lead Network Strategy Engineer) and Simon Cowl (O-I Glass – Vice President of HR Asia Pacific).
Situated in the heart of Melbourne at VU's City Flinders Campus, the SAP Next-Gen Lab is a stylish space designed to encourage collaboration and innovation. It's a place where VU's Master of Business students can draw on SAP's capabilities and the latest technology.
As part of their assessment, VU Masters of Business students worked with AusNet (Victorian electricity transmission network) to help solve complex industry issues relating to data. "We were very impressed – the students' knowledge, insights and presentations were impressive", said Steven Owens.
Already a world-leading institution in Enterprise Resource Planning systems education, the Next-Gen Lab confirms VU's global reputation as a university that prepares and delivers industry-ready graduates.
Bruce McKinnon (Head of Digital Business Services, SAP Australia and New Zealand), addressed the large crowd saying "I could not think of a more appropriate institution with which to launch our first Next-Gen Lab. We cannot wait to see what VU students achieve."
In the coming weeks, current Masters of Business students will begin working on business solutions with O-I Glass, the world's leading glass bottle and jar manufacturer, which has 75 production plants in 21 countries and employs 21,000 people.
"O-I Glass is delighted to be working with VU's best and brightest and we have every confidence the SAP Next-Gen Lab experience will deliver on their promise to come up with innovative solutions", said Simon Cowl, Vice President of Human Resources, Asia Pacific, OI-Glass.
Note: As of October 2018, College of Business has changed name to Victoria University Business School.