VU & PEXA join forces to support next generation of digital talent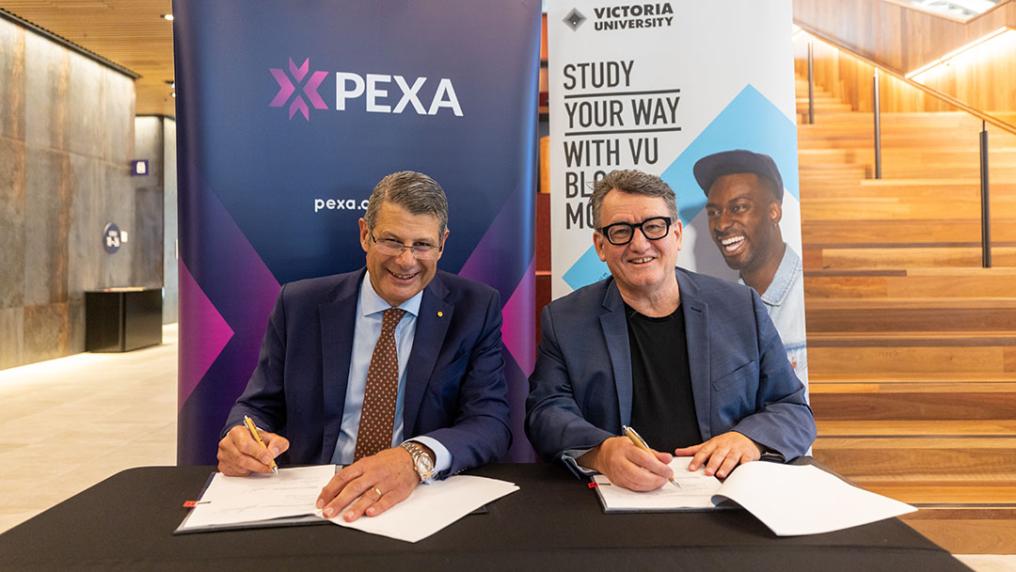 Victoria University has signed an agreement with PEXA Group Limited, which will see PEXA establish a PEXA Learning Academy at VU's City Campus.
Friday 24 February 2023
Victoria University has signed a two-year Memorandum of Understanding (MOU) with PEXA Group Limited to create opportunities that will support the digital talent of tomorrow.
The agreement will see PEXA – the world's first digital property exchange platform that connects home buyers, sellers, government, and real-time data insights – establish a PEXA Learning Academy at VU's City Campus. The arrangement is part of VU's flipped campus strategy that redefines the traditional university campus as VU co-locates at least one strong, industry-aligned partner on each of its campuses by 2028.
The agreement with PEXA will offer VU students access to graduate and internship programs and opportunities to solve real-life business problems through capstone projects. The partners will also share knowledge on issues such as cyber security, Artificial Intelligence, and data analysis about housing affordability and homelessness, with opportunities for VU to support PEXA's employee learning and development programs.
The agreement will also see PEXA contributing an initial $10,000 towards VU's technology-focussed merit-based student awards, with any balance directed to VU's Student Support Fund to help students with cost-of-living relief so they can continue to invest in their learning.
The MOU was signed today at VU's City Campus by VU Chancellor the Honourable Steve Bracks and PEXA Group Managing Director and Chief Executive Officer Glenn King. They were joined by VU Deputy Vice Chancellor Vocational Education Dianne Semmens, PEXA Chief People Officer Sabina Sopov, and PEXA Chief Information Technology Security Officer David Willett.
Chancellor Bracks said VU was thrilled to have PEXA as its newest strategic partner to drive innovation and collaboration. "Synergy and value alignment are central to our partnerships. We partner with those we can meaningfully collaborate and learn alongside, for the benefit of our students and staff. We are honoured to have this opportunity to contribute to PEXA's important work," he said.
Glenn King heralded the partnership: "PEXA is a Melbourne-born success story - a product of collaboration between government, industry and consumers. We are proud of our legacy as digital disrupters and are passionate about nurturing the new generation of digital talent."