VU Online wins two LearnX awards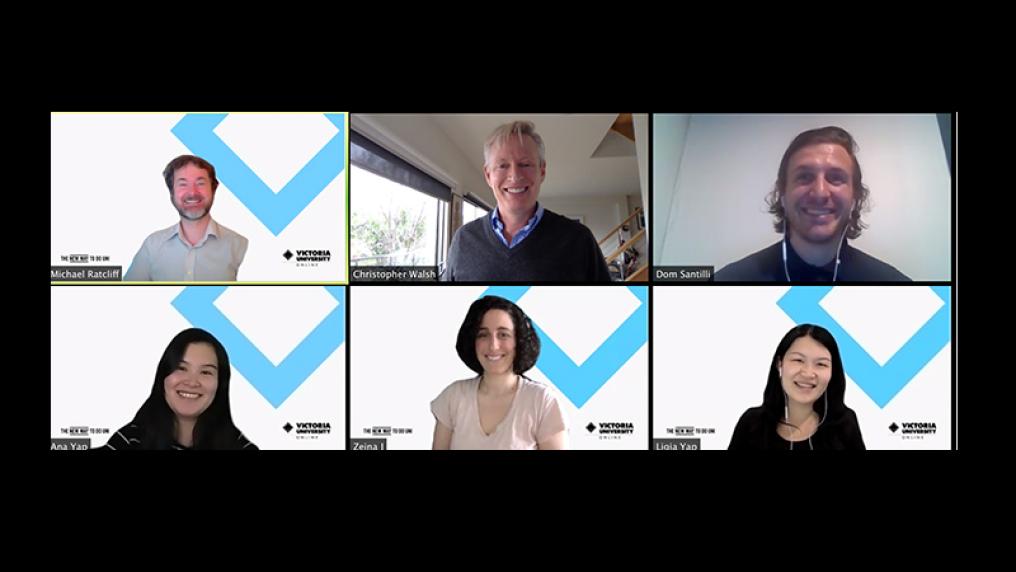 Victoria University (VU) Online has been awarded two honours at the 2020 LearnX Live Awards.
Friday 18 September 2020
Victoria University (VU) Online has been awarded two honours at the 2020 LearnX Live Awards. The national event celebrates innovation in workforce learning, and encourages people to rethink the way they learn, perform and interact with technology.
Michael Ratcliff, Chris Walsh, Ana Yap, Zeina Jamaleddine, Dominic Santilli and Ligia Yap are the small, but dedicated, team who received the Platinum Award for Best Online Learning Model for VU Online's Postgraduate Block Model. They also took home the Platinum Award for Best Talent Partnership with Singapore-based LINC Education. The accolades recognise two projects and solutions delivering best practice and business value determined by the 2020 LearnX Live judges.
Professor Chris Walsh, Academic Director, VU Online says:
"This was our first time participating in the LearnX Live summit, so to have both our projects recognised is a tremendous honour. The awards are global and extremely competitive, so it really is a fantastic achievement on behalf of our hard-working team at VU Online. The COVID-19 pandemic continues to have an enormous impact on the tertiary sector and how students learn and study, which is why it is so important to support innovative and flexible approaches to online learning characterised by high levels of responsive student support seven days a week and in the evenings."
The winning projects were announced late yesterday (Thursday, 17 September) at the LearnX Live Virtual Summit & Awards event, which attracted a global audience. The wider program recognises a range of fields across the corporate, education and public-service sectors.
Each year since 2008, LearnX has embarked on an international search for the most enterprising projects and solutions that "reward individuals, teams and organisations who have leveraged learning and supporting technologies in order to deliver value and significantly impact business results". The most impressive projects are showcased at the awards summit.
The LearnX Foundation is an independent, non-profit event-management and design agency, with a philosophy to provide a platform for "enterprises and their talent to learn, share, network and celebrate their best work".