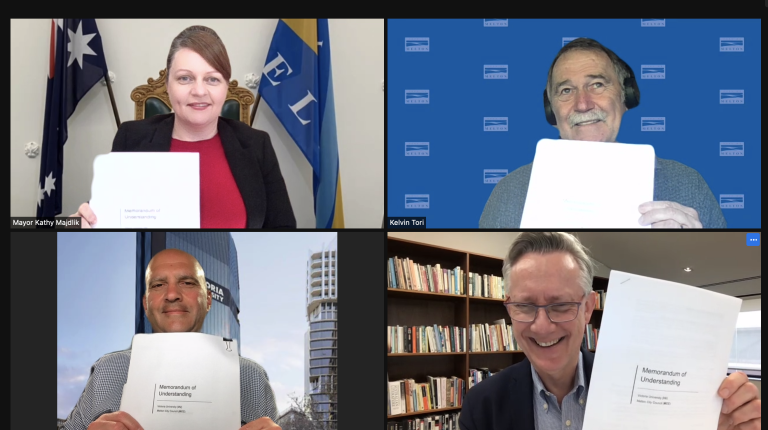 Victoria University (VU) and Melton City Council (MCC) have signed a Memorandum of Understanding (MOU) based on a shared commitment to improving outcomes for communities in Melbourne's west, particularly around access to education and the improved health and wellbeing of its residents.
The MOU was signed on 20 October by Vice-Chancellor and President, Professor Adam Shoemaker, and Melton Mayor, Cr Kathy Majdlik.
VU has long been an advocate for economic growth and participation in Melton, supporting local industry and entrepreneurship through the Melton Business Awards and programs such as the VU Innovations Hot House Project.
"We honour our roots in the west of Melbourne and working collaboratively with our partners, like the City of Melton, to benefit the region and the communities which we serve is a shared commitment," Professor Shoemaker said.
Melton is facing an exciting future with State Government's commitment to a new hospital in Melton and support for the Western Intermodal Freight Terminal. This in turn provides new opportunities for VU to support the education and training needs of the health sector, and other existing and emerging industries, as they invest locally and create the jobs and prosperity that will help the Melton community to flourish into the future.
Mayor Majdlik said that the partnership will open up opportunities to a diverse range of people in and around the City of Melton.
"Together, Council and Victoria University will work to improve outcomes in employment, education, and community wellbeing for people in the west. Everyone in our community should feel that higher education and skills training are not only excellent aspirations, but absolutely achievable," she said.
This partnership will allow for initiatives that support local recovery from COVID-19, as well as programs that support industry capacity building and job creation. VU and MCC will focus on ensuring that their shared vision for Melton is shaped by the Melton community and that community voices, needs and aspirations are at the heart of their work.
Professor Adam Shoemaker said, "In particular, this MOU enables us to collectively identify and pursue priorities for progressive change in the region and contribute to it realising its full potential.
"This commitment aligns with VU's new Strategic Plan 2022-2028 which has a strong focus on partnering with principle and protecting country. The strategy is underpinned by the VU values – to be Always Welcoming, Ethical, Shaping the Future, Together."