Law students from around Australia participated in the 5th Annual Michael Kirby Contract Law Moot Court Competition hosted in September by Victoria University's Law School.
In 2015 there were a total of 30 teams from 18 Australian universities making the event the largest Moot Court Competition in Australia.
VU moot team success
Teams from seven universities gained a coveted place in the finals:
QUT
Griffith
University of Western Sydney
University of Western Australia
Victoria University
University of New South Wales
Murdoch.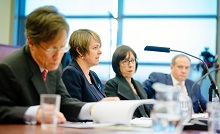 VU's team bettered their 2014 performance, advancing to the semi-finals as the only Victorian team to achieve this level. VU student Andrew Dowling was also recognised as Highest Scoring Oralist in the Final Rounds and VU's team received an honourable mention for Best Written Memorandum for Claimant.
The grand final at the Federal Court in Melbourne was battled between QUT and Griffith universities with Griffith taking out the top spot. Winners' rewards include prize money and invitations to compete in international mooting competitions.
A practical law education
Mooting is the oldest form of legal training for law advocates. At VU, mooting competitions are offered as an elective unit in our undergraduate law degrees to enhance our students' preparedness for life as a lawyer in the real world.
"At all of the [graduate position] interviews that I've attended, there's been significant reference to my mooting experience," says VU mooter, Andrew Dowling. "It's certainly something that employers value and I credit mooting in a large part to my ability to obtain employment in my graduate year."
The moot problem is designed to closely resemble a real-life dispute to ensure it is authentic and relevant to learning. Participants develop fundamental, hands-on lawyering skills including problem-solving, legal analysis and reasoning, legal research, communication and teamwork.
These practical skills equip law graduates for further study and for their future careers.
Making industry connections
The Annual Michael Kirby Contract Law Moot Court Competition is a fixture in the legal calendar and is enabled by VU's strong industry connections to the County Court of Victoria, members of the Victorian Bar, various law firms and practical legal training institutions. Law professionals associated with VU are invited to judge the rounds and provide feedback to students.
This year's grand final was presided over by the Hon. Chief Justice Marilyn Warren AC, Michael D Wyles QC, Honourable Nicola Roxon, and Simon Marks QC.
"It [mooting] gives students an opportunity to understand that it's one thing to read what the high court has had to say and another thing to actually apply that to facts and to make sure that you're giving good advice to your client," said Michael D Wyles QC.