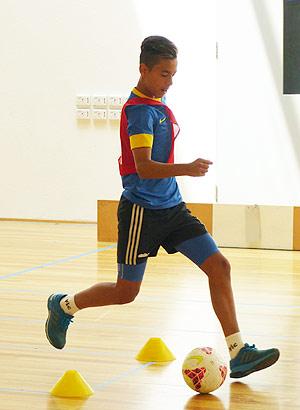 VU's Institute of Sport, Exercise & Active Living (ISEAL) hosted elite junior soccer squad skill testing as part of a 3-year research and education partnership with Football Federation Victoria (FFV).
The bi-annual testing event was held on campus at Victoria University (VU) for the first time on 27 and 31 January 2015. Over 100 secondary school students from across Victoria took part in the two hour program at Footscray Park's state-of-the-art sporting facilities.
VU's partnership with the FFV offers game support to squads within the FFV Talented Player Program.
Junior squads in the FFV Talented Player Program include:
Boys' and Girls' Skilleroos (U12 and U13)
Boys' (U14)
Boys' and Girls' National Training Centre squads (U15 and U16).
Players are selected for the program from public trials based on their potential talent as identified by some of the state's top youth football coaches.
The squads compete in the National Premier League (NPL) to aid their development throughout the year and will later represent the state at the National Championships for their age division.
The testing days were organised by the VU Sports Science staff who research football within the Institute of Sport, Exercise and Active Living (ISEAL). Undergraduate and PhD students assisted in the tests which involved a combination of physical and skill assessments such as sprinting, jumping and passing activities. Results will be provided to FFV coaches to assist with player development.
"It's been fantastic to see the players grow over the last year and a half of the partnership. We've had great support from FFV's Technical Director David Smith and all coaches in the program. It's also been a top opportunity for our students to be involved with elite youth athletes and get a feel for how a sport scientist operates in the real world," said Dr Matthew Varley, lecturer in exercise and sport physiology.
VU's partnership with FFV also includes opportunities for undergraduate students in the College of Sport and Exercise Science to attend FFV squad training sessions and games in the role of sport scientist or sport rehabilitation assistant. Some students' impressive performance was rewarded with further opportunities to be involved with the Melbourne Victory W-League team last season.