VU & Greater Western Water form Major Alliance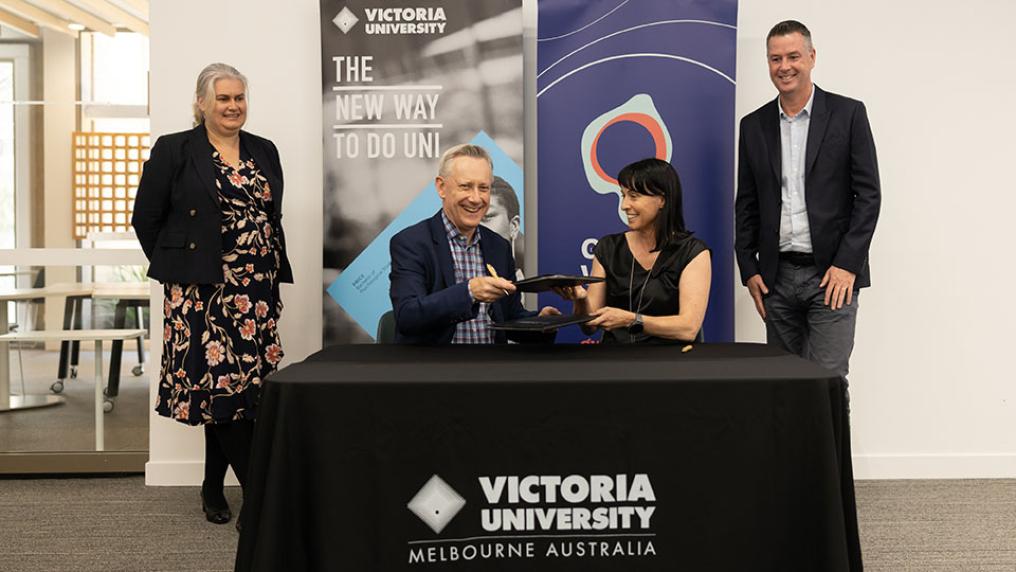 Victoria University and Greater Western Water have strengthened their existing partnership by forming a Major Alliance.
Thursday 16 March 2023
Victoria University (VU) and Greater Western Water (GWW) will expand their partnership that has focused for two decades on providing benefits to the environment and communities of Melbourne's west and beyond.
Senior staff at the two organisations met yesterday to sign a Memorandum of Understanding (MOU) to further their relationship by forming a Major Alliance.
This recognises that their combined impact is immense, and that deeper collaboration is important for the continued development of the region.
VU Vice-Chancellor Professor Adam Shoemaker said the goals of both organisations are more aligned than ever before, as the next phase of the partnership moves beyond traditional connections to reach deep into the combined capabilities and expertise of each as leaders in their sectors.
"Victoria University has a long association with Greater Western Water and its predecessors – dating back two decades. Now, during a time in which the wise use and conservation of water resources has never been more important, we are elevating the relationship to the status of a Major Alliance."
"From protecting Country to partnering with principle, this alliance is one which honours First Nations people and their deep knowledge and expertise in this crucial area. We are rising together in an expert and purpose-driven way to meet the research and social challenges of Melbourne's fast-growing west," he said.
GWW Managing Director Maree Lang said their organisation was excited to work across all facets of the relationship, ranging from joint community education and engagement programs, addressing First Nations' water challenges, and using the partners' joint anchor positions in the west to advocate for the region's development.
The launch also included a workshop where participants discussed broad initiatives the organisations will pursue during the next phase of collaboration.
These include:
ensuring safe and secure water supplies meet the needs of Melbourne's West, and are resilient to changing populations and climate change
supporting the region to attract sustainable and thriving industry and commercial enterprises
trialling innovative solutions to achieve net-zero emissions, leading to zero waste
providing initiatives that build the employability skills of VU students in a range of disciplines with GWW
promoting and supporting equity, opportunity and inclusion among staff, students and communities
expanding the GWW Technical Training Academy to further professional development capacity.
Learn more about the range of joint activities between VU and GWW.