Victoria University's donation of furniture from its decommissioned student village will help improve the day-to-day lives of cyclone victims in Fiji.
Tropical cyclone Winston swept through Fiji on 20 February, killing more than 40 people and leaving some 350,000 people affected by its trail of destruction, including hundreds homeless.
VU facilities engineer Ravinesh Lal proposed sending furniture from VU's former 400-student accommodation village on Williamson Road in Maribyrong to his troubled homeland, where he still has family and friends.
Four hundred beds as well as 400 desks and chairs previously used by VU students were loaded last weekend into four forty-foot containers supplied by the Fiji High Commission.
Ravinesh secured the help of his colleagues, including VU facilities operation manager Allan Davidson, as well as family and friends, and even a local rugby team for the relocation operation.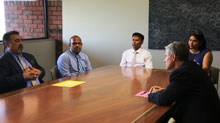 Fiji High Commissioner Yogesh Punja and other members of the Fijian community visited VU's Footscray Park Campus on Tuesday 8 March to personally thank VU for the donation through the University's external relations manager, Rob Brown.
Maribyrnong Student Village has been replaced by a new 12-storey apartment complex, UniLodge @ VU, opposite Footscray Park Campus, which will officially open this Friday.
From October 2019, UniLodge @ VU is known as UniLodge Victoria University.