Wednesday 28 October 2015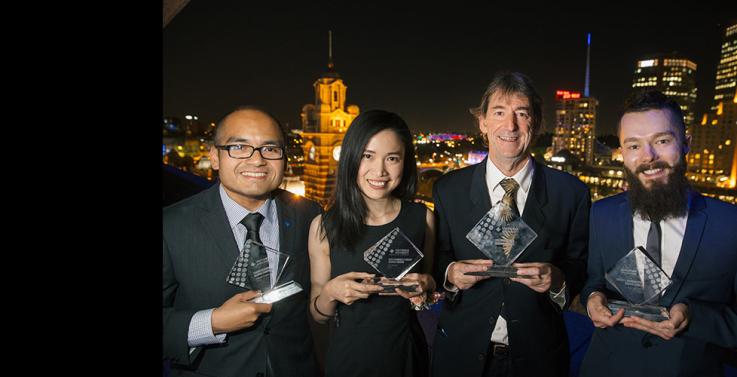 Victoria University congratulates the outstanding achievements of alumni and students recognised in its 2015 Alumni Awards held on 27 October.
Now in its fifth year, the annual Awards have acknowledged exceptional alumni from a range of fields including business, community service, education, government, health, law, media, sport and telecommunications.
Distinguished Alumni Award
Dr John Lasich
Doctor of Philosophy 2010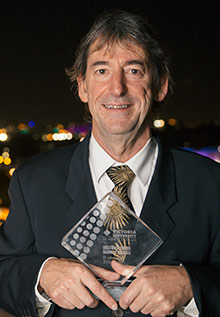 John combines world leadership in science with business acumen.
Motivated by a desire to replace fossil fuel energy with the sun's limitless supply of clean energy, John built his first prototype solar power plant as a university student and spent the next 30 years working on groundbreaking ways to harness that energy.
John's innovative thinking and entrepreneurial drive has enabled him to translate widely discussed ideas into simple and easy systems. He has made an enormous contribution to educating, inspiring and raising awareness about critical energy issues.
In collaboration with the CSIRO, John has helped bridge the divide between academia and industry.
Outstanding Alumni Service Award
Mr Kon Karapanagiotidis OAM
Master of Education, 2005
Bachelor of Social Work, 1997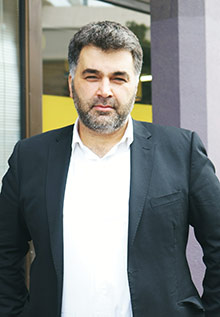 Kon is the CEO and founder of the Asylum Seeker Resource Centre (ASRC), the largest asylum seeker organisation in Australia.
Proudly Greek, the struggles of his parents and his own experiences of racism growing up ignited his passion for human rights.
He has worked at the grassroots with marginalised communities as a lawyer, social worker and teacher, and in 2001 founded the ASRC.
The ASRC is an innovative, one-stop shop that delivers 23 programs across the pillars of aid, justice, empowerment and community. A team of more than 800 volunteers and 40 staff have assisted more than 10,000 asylum seekers and provided in excess of 2.5 million hours of free assistance – all without Federal Government funding.
Kon's work has been recognised with an Order of Australia Medal, a Churchill Fellowship, and as a finalist for the Human Rights Medal and Australian of the Year in Victoria. He was invited to participate in the 2020 Summit, was voted one of Australia's 20 Unsung Heroes, and is one of Melbourne's 100 Most Influential People.
Young Achiever Alumni Award
Mr Maxwell Gratton
Master of Business Administration, 2012
Bachelor of Arts – Sports Administration, 2004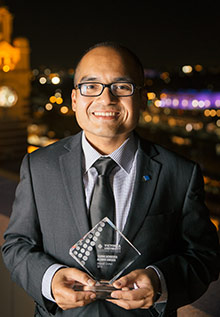 Maxwell is a sports administrator with a wide array of business, political and community expertise. After working in a number of roles at Football Federation Victoria, he was appointed CEO of Basketball ACT in 2014.
Having worked in sports business for more than eight years, Maxwell has successfully managed all aspects of sporting operations, and has experience in not-for-profit and professional sport organisations.
Throughout his career, Maxwell has developed a range of expertise and skills that has prepared him for a role as a CEO. He is a proven team leader with strategic vision and business acumen, and possesses flexible and decisive work-style.
Maxwell has made an exemplary contribution to Victoria University. He is an avid supporter - employing graduates, hosting interns, advocating on behalf of the University. In a previous role, he was instrumental in the creation and funding of two Achievement Scholarships.
Outstanding Student Alumni Award
Mr Adam Bromage
Doctor of Philosophy – current
Bachelor of Science (Honours) (Psychology), 2014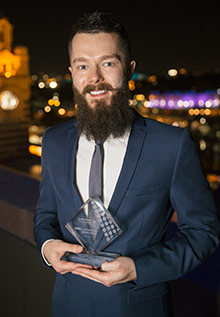 After a decade as a hairdresser, Adam realised he wanted to achieve more intellectually and professionally, and decided to pursue tertiary education.
Most universities however, did not welcome him. He was advised that he was aiming too high and if accepted, he would most likely struggle and fail. Victoria University encouraged Adam to sit an entry exam, and he earned a place in the Bachelor of Science (Psychology).
He initially considered dropping out, but a mentoring program helped him build confidence in his academic ability. Through hard work and dedication he received an award as VU's most outstanding first-year student.
Adam completed his degree with 23 high distinctions and first-class honours. He received a Dean's High Achievement Scholarship, and in 2014, was awarded the College of Arts Dean's Scholar Award.
Adam is now a Psychology PhD student holding an Australian Postgraduate Award Scholarship. He also teaches psychology to dental students at Charles Sturt University - a rare honour for a student at graduate level.
Ms Lou Xiaocui (Catherine Lou)
Doctor of Philosophy – current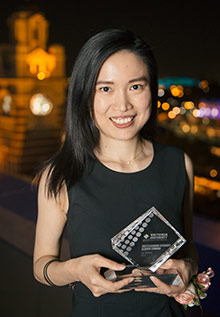 Catherine is a PhD candidate at Victoria Institute of Strategic Economics Studies in the College of Business, and a committed advocate for international students.
In 2013 Catherine was recognised as the state of Victoria's international postgraduate student of the Year for her many contributions to international students. She has served as president of the International Students Association, and Postgraduate Association, and is a member of the Council of International Students Australia; the Council of Australia Postgraduates Associations; and the Victorian Association of Chinese PhD Students and Scholars.
Catherine has been vocal on many issues that affect the lives of international students, including transport concessions, student accommodation, professional development and engagement.
She was recently appointed a VU lecturer in supply chain logistics within the College of Business.
Read more about the 2015 Alumni Award finalists.