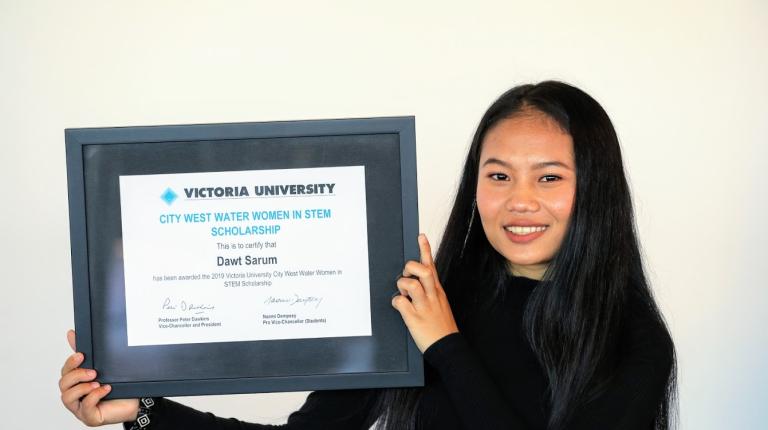 Civil engineering student Dawt (Nunu) Sarum was a recipient of the VU–City West Water 'Celebrating Women in STEM (Science, Technology, Engineering and Maths)' scholarship.
The scholarship was aimed at supporting the education of a female future engineer. It included mentoring by senior City West Water staff about career opportunities in the water industry.
Nunu, 19, who is from Caroline Springs, spoke about choosing engineering as a career:
"I've always loved figuring out how things work so engineering was the perfect fit for me."
Now in her second year at VU, Nunu arrived in Australia as a refugee from Myanmar (Burma) in 2014. The only woman in her Bachelor of Engineering class, Nunu was nominated for the scholarship by one of her lecturers, Dr Rudi Van Staden.
"I am delighted to receive the scholarship. It's a great encouragement to keep doing well in my studies," said Nunu.
Three other female engineering students will also receive mentoring support from City West Water executives as part of the program.
Vice Chancellor Professor Peter Dawkins said a gender-diverse STEM workforce was key to solving the world's complex challenges:
"STEM still has a dire under-representation of women, and we are missing out on using the immense talent that currently exists."
City West Water Managing Director David Ryan said the company was committed to improving the representation of women both in the water industry and in other STEM-related industries.
"Our hope is that, together, these women will foster talent, creativity and commitment to strengthen the representation of women in STEM."
For many years, VU's Women in Science and Engineering (WISE) program, coordinated by Associate Professor Juan Shi, has supported VU female engineering and science students through its regular program of seminars and workshops featuring female engineers, scientists and IT professionals.