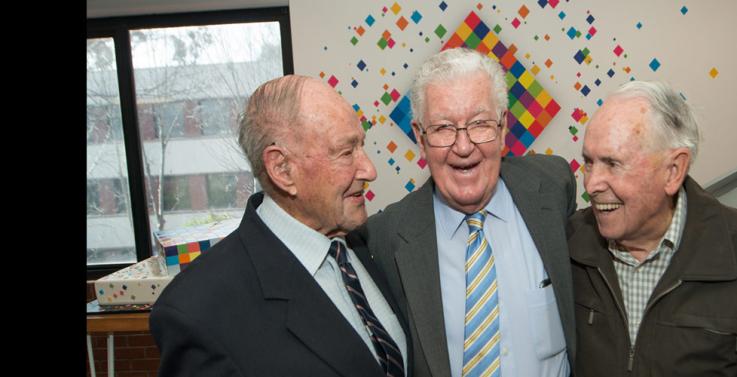 Victoria University today launched a dynamic program of events for 2016 to celebrate its 100 years as an education provider in Melbourne's west.
Minister for Education and Training, The Hon Christopher Pyne officially launched VU's centenary celebrations to an impassioned audience that included alumni from the 1938-39 class of the original Footscray Technical School.
VU Vice-Chancellor Professor Peter Dawkins said the University has the same commitment today that its founding institute had a century ago.
"100 years ago the Footscray Technical School took up the challenge to offer education opportunities to diverse communities in Melbourne's west," Professor Dawkins said.
"Today, we continue to rise to new challenges to support skills and job growth, and improve access to education across Melbourne and the western region.
"We've become one of the longest-standing providers of education in Victoria, proving that we are able to adapt to different eras and prepare our students for changing industry needs—and we're committed to continuing this achievement for our next exciting period," he said.
VU's centenary milestone reflects the far-sighted vision of Footscray Technical School Principal, Arch Hoadley, who first opened his school's doors in February 1916 to offer western suburbs students a well-rounded education that would serve them for life.
"Just as our heartland of Melbourne's west continues its remarkable transformation from a former industrial base to a creative, vibrant and uniquely connected region, VU is proud to continue to support a stronger, smarter community through the power of education," Professor Dawkins said.
The centenary program's colourful calendar of events, activities and projects will be spread across all VU campuses and their neighbourhoods throughout 2016 for students, alumni, staff, industry partners, and the wider VU community both locally and around the world.
Centenary program highlights for 2016 include:
Centenary dinner in the National Gallery of Victoria's Great Hall
Centenary ball for past and present members of the VU community
VU homecoming weekend for staff and students of VU's predecessor institutes
Overseas graduation and alumni celebrations.
The centenary program was launched at Footscray Nicholson Campus to coincide with the time and place that Footscray Technical School laid its foundation stone in August 1915.
The ceremony included a concert by the Choir of Hope and Inspiration led by Dr Jonathon Welch AM, who will direct a new VU choir, the Choir of Opportunity, to perform at VU events in 2016.