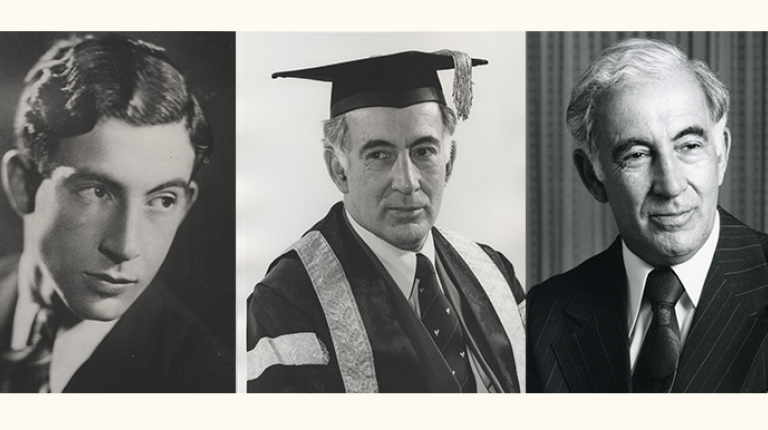 This August, Victoria University's Sir Zelman Cowen Centre will celebrate the centenary of the birth of its namesake, Sir Zelman Cowen, in a series of events and activities.
The events will explore the impact Sir Zelman Cowen had on the nation and the world. Each activity will highlight an aspect of his influence on society across law, education, government, culture, media and privacy and free speech. They include a travelling exhibition, the fourth annual Sir Zelman Cowen Oration, and a symposium on the 'Role of Universities in the 2020s'.
Centenary celebrates a life of "few parallels"
Executive Director of the Sir Zelman Cowen Centre, Professor Kathy Laster, says the centenary provides an opportunity to reflect on and celebrate Sir Zelman's legacy as a university educator, community leader, and as our healing Governor-General (1977-82):
"This year marks the centenary of the birth of one of Australia's greatest statesmen and provides us with an opportunity to consider the many ways in which Sir Zelman Cowen contributed to the growth of Australia." 
"It also provides us with an opportunity to raise awareness of the work done at the Cowen Centre, which furthers Sir Zelman Cowen's interests in connecting the law with the community, supporting diverse communities, and encouraging public discourse on how innovation can support access to justice."
The Treasurer of Australia, the Hon Josh Frydenberg MP, who was mentored by Sir Zelman, will deliver the fourth annual Sir Zelman Cowen Oration on Thursday 29 August at 6pm at Victoria University's City Conference Centre. Frydenberg will reflect on his friendship with the man he described as "a colossus, whose public life had few parallels".
Sir Zelman Exhibition to tour
The Cowen Centre will also launch a series of video interviews, with Sir Zelman's colleagues, students, friends and family sharing stories and describing him as "a brilliant academic", "a great humanitarian" and "an outstanding storyteller".
The videos will form part of the travelling exhibition, A Life of Opportunity and Success: Sir Zelman Cowen Centenary Exhibition, which offers a new insight into his life and legacy. The exhibition will tour a variety of locations starting at various Victoria University campuses, before its official unveiling by Her Excellency the Honourable Linda Dessau AC, Governor of Victoria, at the Jewish Museum on 13 August 2019.