Wednesday 27 January 2016
Victoria University Chancellor, George Pappas and Chair of the Victoria University Foundation and Centenary Campaign, Susan Alberti, have received some of the nation's highest honours in this year's Australia Day awards.
Mr Pappas was appointed an Officer in the Order of Australia (AO) for service to the community through roles with tertiary education, medical research and defence organisations, as well as supporting business, particularly management consulting.
Dr Alberti was appointed a Companion of the Order of Australia (AC) for philanthropic and fundraising support for a range of medical research, education and sporting organisations, advocating for improved health care services for the disadvantaged and supporting young women as a role model and mentor.
Professor Peter Dawkins, Vice Chancellor of Victoria University, was delighted to see the prestigious nods for two outstanding members of the VU community.
"I would to like to warmly congratulate George Pappas and Susan Albert on their awards," Professor Dawkins said.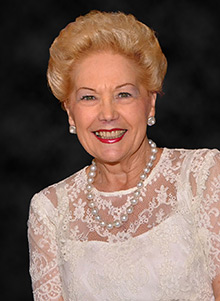 "George was initially selected for the role of Chancellor on the basis of his strong commitment to education, his business expertise and his personal affinity with, and commitment to, Victoria University's mission.
"Since he was appointed Chancellor his service has exceeded already high expectations and his genuine passion and enthusiasm for the University are inspirational.
"And in Dr Alberti we have an extremely generous philanthropist whose energy and enthusiasm are infectious.
"When she commits to a cause or project she becomes an active ambassador for that cause - she helps promote activities, seeks collaboration and partnerships and aims to maximise the outcomes for the organisations involved."
Mr Pappas took on the Chancellor role at Victoria University following a distinguished career in business and the public sector. In his time as Chancellor, Mr Pappas has built on the University's strong commitment to equity and excellence, both locally and internationally.
He has demonstrated philanthropic leadership and actively sought philanthropic support through both his own networks and the broader philanthropic community. Most recently, he and his wife Jill pledged $1 million to the University's Centenary Campaign which will go towards the University's scholarship fund.
Dr Alberti has served as a Director of the Victoria University Foundation since November 2008 and was elected to the position of Chair of the Foundation in February 2014. She played a crucial role in the introduction of a unique model of scholarships in 2010, the Achievement Scholarships, which she continues to support.
Since her election as Chair of the Victoria University Foundation, she has provided outstanding leadership and recently agreed to Chair the University's Centenary Fundraising Campaign.