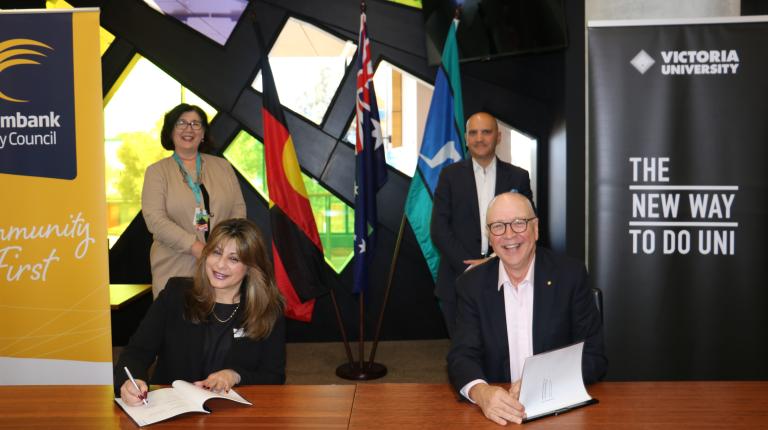 Under a newly signed Memorandum of Understanding (MOU), Brimbank Council and Victoria University have affirmed their commitment to work together to help improve local employment, education, learning, health, wellbeing and socio-economic opportunities for the Brimbank community and Melbourne's west.
VU's Vice-Chancellor and President, Professor Peter Dawkins, and Brimbank Mayor, Cr Georgina Papafotiou, signed the MOU on Tuesday, 4 June.
Professor Peter Dawkins said, "We are incredibly proud to be a part of the communities in Melbourne's west, which has been the home of VU for over 100 years. Our partnership with Brimbank City Council will create new opportunities to work with local industry and community organisations and  expand access to vocational and higher education and training which will provide the knowledge and skills that underpin a vibrant local economy and a healthy community". 
VU's two campuses in Brimbank are becoming an integral part of the Brimbank community. The Sunshine Campus is within the heart of the priority precinct, and is home to a new skills hub. The St Albans Campus is home to a new Cyber Security Centre, which neighbours with the Sunshine Hospital, the Joan Kirner Women's and Children's Hospital, and the St Albans Health and Wellbeing Hub.
"We are looking forward to embarking on this next chapter with the City of Brimbank. The signing of this MOU signifies an important step in our relationship that will see the link between us strengthen to the benefit of our community," continued Professor Dawkins. 
Cr Papafotiou said the MOU builds on and formalises an existing relationship, and will be leveraged as part of the COVID-19 recovery process, to take advantage of opportunities to strengthen and benefit the local community economically and socially.
"Council is extremely excited to be joining forces with Victoria University (VU) through this MOU, to align our combined learning networks, services, and efforts to achieve impact in uplifting the communities of Melbourne's west."
The City of Brimbank has had significant government investment through projects such as the Sunshine Super Hub and Sunshine Priority Precinct, which present huge potential opportunities around economic development, industry and innovation, jobs, skills and learning pathways. 
Under the MOU, VU and Brimbank's joint focus will be on improving economic and social outcomes for key communities, including Aboriginal and Torres Strait Islander Communities, Culturally and Linguistically Diverse Communities, young people and economically vulnerable communities. The MOU will also be a key component of Brimbank's Recovery Strategy to COVID-19.
"We believe this MOU can be a game changer for how a local council and higher education institution can engage to align local learning pathways from local neighbourhood houses, right through to higher qualifications. This MOU will help us reimagine how council and VU can partner to help improve local business, job, skill, health and wellbeing outcomes," said Cr Papafotiou 
The MOU is consistent with Council's Transforming Brimbank 2020 Agenda, which seeks to build strategic partnerships across the community to help advance the priorities of the Agenda, including the need for a new Business, Skills and Jobs Working Group, and the need to implement the Western Rail Response Strategy. 
Guided by the MOU, Council and VU will collaborate in a range of different areas, including:
development of the Sunshine Priority Precinct
research initiatives for community impact and benefit
learning, skills and economic development programs
planning for the future St Albans Campus.
The MOU will remain in place for an initial period of three years, with an option for renewal.