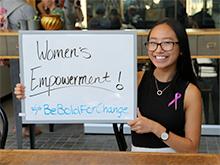 Victoria University was awarded a $50,000 grant from the State Government for a student-led plan to promote zero-tolerance of violence against women in all its forms.
VU is the only university in Victoria and one of only 34 organisations to receive the grant as part of the government's Community Partnerships for Primary Prevention program.
Respect & Responsibility action plan
VU's Respect and Responsibility Unit will use the funds, in partnership with Victoria University Student Union (VUSU), to develop and implement a Respect and Responsibility Student Action Plan over the coming three years.
VUSU President Jillian Horman said the plan may include an online module for students focusing on:
consent
assault and violence
incident-reporting processes
where and how students can seek support.
"The module, when developed, will ensure all students accepted to the university also accept and are aware of the University's values and policies in relation to conduct and behaviour toward fellow students," she said.
The plan will also look at initiatives in these important areas:
developing campaigns focused on consent and safety for women, but inclusive of all individuals
having a student representative committee examine relevant VU policies and provide feedback with an aim of positive change
contributing to a dedicated edition of the student-run magazine Hyde about the experiences of women and the prevention plan.
Part of a wider campaign
Miss Horman said all the activities would contribute to a wider VU response to the release of a national on-campus assault survey whose findings will be release on 1 August.
"The grant presents a huge opportunity for both VUSU and VU's wider Respect and Responsibility initiatives. I am sure it will contribute to the success of change at VU immediately, and in the years to come."
Minister for Women Fiona Richards commended VU's application as reflecting a real commitment to preventing violence, particularly against women. 
"We know communities working together have the greatest impact on reducing family violence and violence against women – that's why we're investing in these partnerships."
VU Respect and Responsibility Manager Marion Cronin said she was delighted that VU was successful in receiving the $50,000 grant.
"I look forward to working with VUSU to develop a new and exciting initiative that focuses on the primary prevention of violence against women," she said.