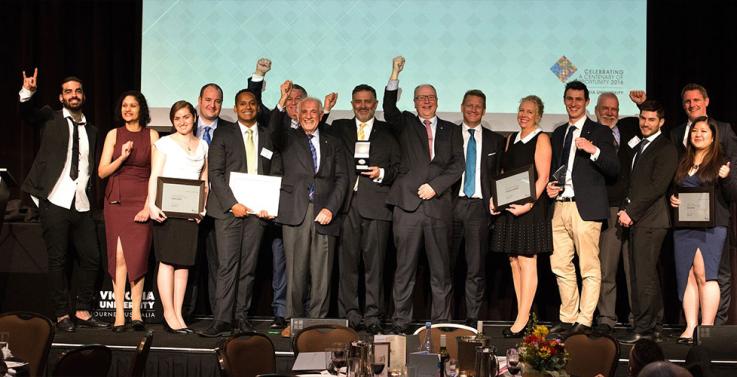 Victoria University proudly acknowledged and celebrated the outstanding achievements of our Alumni and students at the annual Alumni Awards presentation on the 19 October.
Since their inception in 2011 the Alumni Awards have showcased the diversity of the programs of VU and our predecessor institutions. Nominees have included:
local and international business leaders
philanthropists
world class sportspeople
musicians
politicians
and those who tirelessly volunteer to help make their communities better places to live.
2016 award recipients
Distinguished Alumni Award and Centenary Hoadley Medal recipient: Tan Sri Dr Jeffrey Cheah AO
VU Honorary Doctorate, Diploma of Business
Tan Sri Dr Jeffrey Cheah AO is the visionary founder and chairman of Sunway Group, a leading Malaysian conglomerate. He is also the founding trustee of Malaysia's largest education-focused social enterprise, the Jeffrey Cheah Foundation (JCF). He supports his passionate belief in the power of education to raise standards of living and making quality education accessible to all deserving students, through creating a legacy of perpetual scholarships with the Sunway Education Group of 16 institutions, which are now a part of the JCF.
Tan Sri is heavily involved in sustainable development through Sunway's sustainable development town and city creation and construction programs, and also through helping establish public policy think tanks and research. He has gifted US$10million to establish the Sachs Centre on Sustainable Development, aimed at advancing the UN Sustainable development Goals in Southeast Asia.
With 9 honorary doctorates bestowed by leading international universities, twice recognised as Forbes Asia Hero of Philanthropy, Council member of UN Sustainable Development Solutions network and many other significant roles and awards of recognition, Tan Sri was also awarded an Officer of the Order of Australia for his contribution to strengthening bilateral relations between Malaysia and Australia through education.
Outstanding Leadership Alumni Award recipient: Mr Paul Booth
Bachelor of Business
Paul is one of VU's 90 Legends, having been involved in leadership roles with VU during his student days – including as General Secretary of the National Union of Students, Victoria and a member of the VU Council – and throughout his career. He has maintained a strong interest in VU, instigating the Booth Medal in 2002 in the College of Law, and supports the Award with an annual donation.
His work, primarily in the finance sector has seen him hold very senior leadership roles at a young age. His roles include being appointed Head of Citi Global Data Services by the age of 35 and now his role at BlackRock Inc., the world's largest asset manager with approximately US$5 trillion of assets under management, by age 44. Paul also volunteers his time and expertise in Board roles including with Surf Living Saving Sydney. He was awarded a Commonwealth Commendation for Bravery for his role as a volunteer lifeguard in 2001.
Outstanding Service Alumni Award recipient: Mr Nasir Sobhani
Certificate 3 in Hairdressing
Nasir became Victoria Polytechnic's Ambassador in 2015. Whilst training at VU, Nasir began offering homeless people complimentary grooming services, and respectfully learned their stories. Through realising the influence he could have on the self-esteem of others, he became "The Street Barber". On his days off he takes to the streets to give free haircuts to people who are homeless and/or experiencing socio-economic disadvantage.
His integrity, compassion and works are followed globally, including in Russia where a local barber chain brought him to Russia and together they visited various homeless shelters and hospices providing free haircuts. Nasir has also travelled to Philippines to do the same type of volunteer work. Nasir was one of 5 people profiled as part of the Kenneth Cole Courageous Class Campaign in New York, which celebrated individuals who have overcome life's challenges to become inspiring role models.
Young Achiever Alumni Award recipient: Mr Christian Williams
Bachelor of Education
Despite having a severe congenital heart condition, Christian initially pursued his passion for sports and captained Australia's junior lacrosse team. However in trying to qualify for the London Olympics in archery it became clear his health required him to pursue a different path and he traded the sporting field for a classroom. Success followed this move, being recognised as the Victorian/Tasmanian Teacher of the Year and a Young Australian of the Year finalist.
His innovative classroom activities include running a real café as a social enterprise, and creating an IPhone app to teach kids about healthy eating and exercise. For these approaches he was one of only 2 teachers in Australia to be picked from 8,000 applicants across 148 countries to be a finalist in the "Nobel Prize of Teaching" – the Varkey Foundation Global Teacher prize. Christian also continues to meet with children who have congenital cardiac conditions, inspiring them to dream big and fulfill their ambitions.
Outstanding Student Alumni Award recipient: Dr Ancy Ramasamy
Doctor of Philosophy and Master of Business (Industrial Relations and Human Resource Management)
Arriving in Australia in 2010, Ancy has pursued excellence in studies and in her community and student leadership activities. A valedictorian at graduation and recipient of the VU International Research Scholarship due to her academic results, she has also been heavily involved in supporting other students.
In this area she has been an English language facilitator, Resident Assistant supporting international students in the Student Village, organiser of social events that brought together students, and also a Senior Rover, supporting new students with their academic endeavours and ability to access VU resources. Her kindness and professionalism have touched and supported many fellow students.
Outstanding Student Alumni Award recipient: Mr James Sorensen
Bachelor of Science (Biomedical Science) Honours
James has been widely acknowledged for both his academic and student leadership achievements, including the 2015 VU Individual Student Leadership Award for his commitment and demonstration of leadership through multiple roles at VU; and being the recipient of the 2016 Vice Chancellors' research scholarship.
Whilst achieving High Distinctions and First Class Honours, he also co-founded the College of Health and Biomedicine Society, was elected to the role of General Secretary of the VU Student Union, and served on the VU Council. James also actively promotes VU, presenting to both careers teachers and students. His Honours' research has been published in top tier journals and received international acclaim for its innovative approaches.
Special presentation
The Centenary year saw an extraordinary calibre of finalists in the Distinguished Alumni Award category. As a result, each finalist was presented with a Centenary Hoadley medal, in recognition of the extent and impact of their achievements.
Centenary Hoadley Medal recipient: Mr Brendan Joyce
Bachelor of Arts (Recreation)
Brendan is a pre-eminent sports leader, acclaimed and respected locally, nationally and internationally for his achievements and contributions as an elite basketball player and coach. A national representative as a player, his career has moved to coaching where he has achieved considerable success in the NBL, with the Australian Men's team the Boomers as Assistant Coach, and over the past 3 years as head coach of the Australian Women's team, the Opals.
With a strong focus on teamwork and the pursuit of excellence, in his expanded AIS role as leader of the national women's basketball program Brendan has overseen a period of unrivalled success with every national women's team bringing home a World Championship medal. He has received multiple awards recognising his achievements as an athlete and a coach.
Centenary Hoadley Medal recipient: The Hon Telmo Languiller MP
Bachelor of Arts (Australian Cultural Studies)
Telmo was first elected to the Victorian Parliament in 1999, and has a passionate commitment to the western suburbs. Born in Uruguay, he was exiled in Argentina following his involvement in student and union movements, and he continued his active involvement in these areas upon his migration to Australia.
He has held a range of roles within Parliament, heavily focused upon driving policies and services in the areas of health, community services and multicultural affairs. He has been widely recognised for his work including being the recipient of an El Salvador Government Bicentenary Award.
Victoria University is honoured to celebrate the diverse contributions made by our Alumni Community.