Wednesday 14 September 2016
Victoria University is proud to announce that Dr Julie Fletcher and Dr Kathy Tangalakis have received Citations for Outstanding Contributions to Student Learning, as part of the Australian Awards for University Teaching.
VU's Dr Paul Adams also shared a citation with three other members of a team from Swinburne University. The team was recognised for the development of a collaborative, multi-institution, student education forum that enables graduating communication students to engage directly with industry to improve employabilityskills.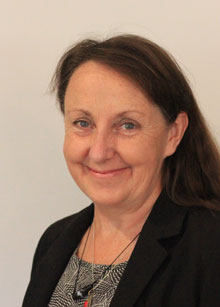 Administered by the Department of Education, Skills and Employment, the Citations were presented last night in a ceremony at Federation Square. The Citations acknowledge the work of Dr Fletcher (College of Arts), Dr Tangalakis (College of Health and Biomedicine) and Dr Paul Adams (College of Arts).
Citations are awarded to those who have made a significant contribution to the quality of student learning in a specific area of responsibility over a sustained period.
As a young woman growing up in the Wimmera, where university was "barely an imaginable place", the Citation is a welcome acknowledgment of Dr Fletcher's teaching approach.
"I began my studies at the age of 25, as a single parent of three children. As a high performing student at the University of Melbourne, I was recognised for my academic potential, but felt that my "other" life had to be left at the university gate. In my teaching, I embrace and value diversity of experience and background."
Dr Fletcher says she is honoured by the recognition and feels "extremely privileged" to be teaching at VU. "As a non-traditional student myself, I am committed to the VU mission as the University of Opportunity."
For Dr Kathy Tangalakis who received her Citation for "Enhancing learning and teaching of bioscience and the overall student experience", the award is a career highlight that recognises not only her hard work, but that of her colleagues, who have invested in providing VU students with a supportive learning environment.
"My parents migrated from Greece to Australia in the early 1960's. They instilled in me the value of education and with their support, I succeeded in becoming first in my family to attend university."
After completing a Bachelor of Science with Honours and a PhD at the University of Melbourne, Dr Tangalakis started teaching at the former Victoria University of Technology. "Whilst my teaching methods have evolved, my passion and commitment to supporting VU students achieve their potential, regardless of their educational or cultural background, is stronger than ever. I am honoured for the recognition which comes with this award."