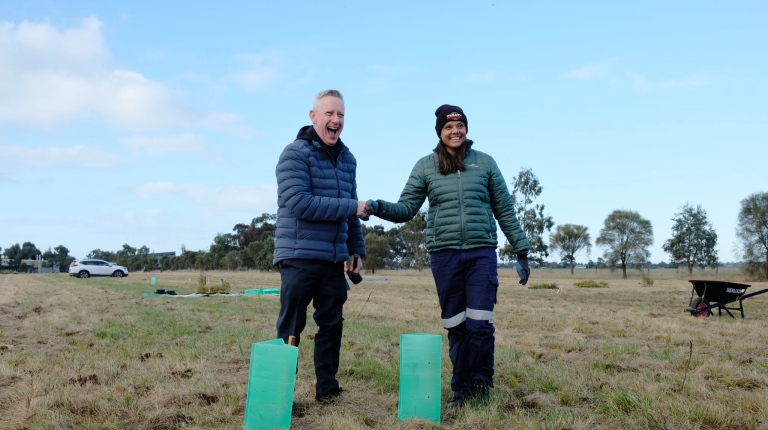 With help from students, staff, local organisations and community members, Victoria University (VU) has met its goal of planting over 5000 native trees at its Werribee Campus on Friday 29 July 2022. About 170 volunteers signed up to four sessions across the day to play a part in making Melbourne's west cooler and greener. 
The day kicked off with an Acknowledgement of Country by Bundjulung and Torres Strait Islander VU student Tahnee Towers, followed by a ceremonial planting of the first tree by Tahnee and Vice Chancellor Professor Adam Shoemaker.
"We're greening up the west and also recognising the traditional custodians and protecting Country," said Tahnee.
VU worked closely with Wyndham City Council, environmental organisation Koala Clancy Foundation and the Department of Land, Water and Planning (DELWP) to ensure the best and most sustainable approach
In line with VU's commitment to Protecting Country, planting trees is a way to ensure that campuses and spaces are welcoming, resilient and sustainable.
VU's Vice Chancellor and President Professor Adam Shoemaker spent the morning planting with other members of VU's Senior Executive team and said that as a university, VU is glad to embrace its role in combatting climate change, as well as keeping the environment healthy for the community.  
Students from Suzanne Cory High School, members of the Sikh community from Club 60 Tarneit, members of the Wyndham Community Education Centre Interfaith Group, and members of the Werribee River Association Werribee Children's Centre joined with VU staff and students to achieve the 5000 tree target.
Volunteers said that the day gave them "a feeling of community and hope for the future" and that it "brought the community together and helped educate the younger helpers about the environment and caring for it."
One volunteer described their experience meeting other community members on the day.
Our community is so diverse and welcoming. Between all of us we have so many stories and lived experiences of hardship, resilience and perseverance that are unique and a privilege to listen to.
VU will continue to care for the site ensuring the trees are given the best opportunity to flourish in the next few years.
The new urban forest will help to reduce urban temperatures, filter pollution, impact the community's health and improve biodiversity habitat.
This initiative was funded by the DELWP as a part of the Victorian Government's More Trees for a Cooler, Greener West program, which aims to plant 500,000 trees in the west to reduce heat, combat air pollution and improve the health of local communities.  
Photography competition 
VU in the Community held an Instagram photography competition on the day open to everyone who attended. Congratulations to the winners Diana Vu, Nu Nu San and Engela van der Klashorst whose photos really captured the days energy and enthusiasm!
You can view the winning images by following VU in the Community on Instagram.