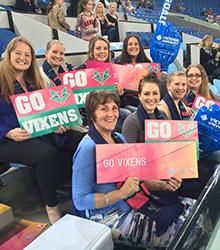 Last week, Arts student Yvonne Porter was the first winner of our 'Best Seats in the House' competition to enjoy a money-can't-buy experience.
Yvonne, who is completing a Bachelor of Arts (Honours) (Sports Administration), attended the Melbourne Vixens 56-48 win over the West Coast Fever at Margaret Court Arena with seven guests, enjoying the game from a Courtside Premium Corporate Box with food and drinks, and a signed ball.
Yvonne said she wanted to take friends and family to with her to show them where she wants to be one day, and the reason she sometimes leaves events early or doesn't go out every weekend - because her goal is to join the Vixens.
She also wanted to give something back to them for all their support throughout her netball coaching and educational careers.
"I want to not only coach the Vixens one day, but also to be able to work with Netball Victoria in creating increased participation in netball through my honours and hopefully PhD work in sports administration."
Yvonne, who took her mother, sister and five friends, called the experience an "amazing" day.
"The feeling of the crowd and the atmosphere in the stadium was unlike anything any of us had experienced.
"The highlight for us was being able to spend the day together as a group and to be pampered and treated so well. Being able to see the Vixens get the win when they were the underdogs and to be so close to the action was an experience none of us will forget."
She was also successful in demonstrating to her friends why she is so passionate about her goal.
"On the drive home, one of my friends said to me that she finally understood what I wanted in my future and why I love the sport so much. I was able to share my greatest academic and sporting passion with those closest to me and I was able to show them why the sport means so much to me."
Yvonne was one of three students to win money-can't-buy experiences with VU partners, the Melbourne Vixens, Western Bulldogs and Malthouse Theatre.
Note: Victoria University and The Melbourne Vixens had a long-standing partnership until August 2018.