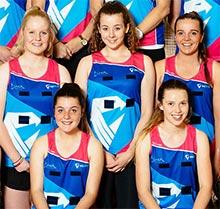 Victoria University Netball Academy is seeking talented young netballers to trial for 2016.
The VU Netball Academy targets talented players aged either 13, under 15 or under 17 for the rigours of elite netball. VU has produced many high-calibre athletes at both state and national levels since it was established in 2010. Earlier in 2015 the Academy was delighted to welcome Bianca Chatfield, a well-known netballer with a distinguished 13-year international career, as the new head coach.
Academy participants attend specialist monthly training and coaching sessions and have access to VU's Aquatic and Fitness Centres, as well as the University's allied health services such as osteopathy, nutritional therapy and massage.
Apply
Selection trials for the 2016 VU Netball Academy will be on 4 December 2015 and 5 February 2016. To attend, you must submit the application form by Friday 27 November 2015 to Jessica Harrington ([email protected]) or Catherine Saunders ([email protected]).
Further information
Visit the VU website for more information about the VU Netball Academy.
All athletes attending a trial must wear a white top and blue/black bottoms. It costs $2.00 to trial.
Dates: Friday 4 December 2015 and Friday 5 February 2016
Times:
13 age group (born in 2003): 5:00pm – 6:00pm
15 age group (born in 2001, 2002): 5:30pm – 7:30pm
17 age group (born in 1999, 2000): 7:00pm – 9:00pm
Location: VU Community Sports Stadium, Whitten Oval, 417 Barkly Street, Footscray
The Academy is based at VU's Community Sports Stadium at Whitten Oval, home to the new Western Netball league with partner Netball Victoria.
Note: Victoria University and Netball Victoria had a long-standing partnership until August 2018.