Thursday 17 September 2015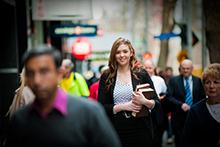 The newly released 2015 QS World University Rankings have seen Victoria University (VU) move up the scale more than 100 places.
With around 16,000 universities across the globe, this places VU in the top 4%.
The QS ranking system uses six measures with different weightings to calculate an overall score. Two of the indicators are based on global surveys - one of academics and another of employers - each the largest of their kind.
As well as moving up the QS rating system, VU rated 145th for international student ratio. The 2015 rankings also rated VU as a 'high' research intensity (relative to size) and a 'comprehensive' focus for the range of areas in which programs are delivered.
Professor Kerri-Lee Krause, Provost and Professor of Higher Education, said "This is a significant achievement which confirms our aim to improve research and provide students with a rewarding learning experience. Further, it reinforces our mission to be the University of Opportunity and Success."