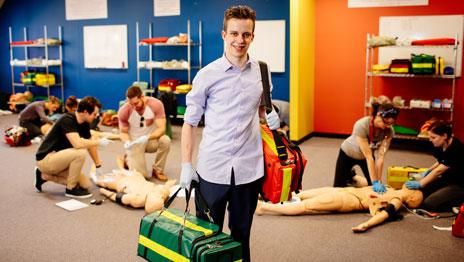 A Victoria University program for Year 12 students from Melbourne's West to take university classes is boosting the ambitions of its young participants.
VU's Early Uni Pathways program allows motivated Year 12 students to enrol in tuition-free first-year classes for VCE credit and guaranteed entry to Victoria University.
However, unlike many other universities that target only academically-strong high-schoolers for their early-entry programs, VU's program offers customised support and mentoring to a wide range of participants.
"There's been great interest across Australia in what we're doing to address inequity and raise aspiration," said program manager Jacinta Richards.
Since its launch last year as a federal-government-funded project involving eight students at three schools, the program now has 24 students at four schools. Each is taking two first-year university units (one each semester) on top of their school subjects, with topics ranging from professional writing to nursing to business.
Students leave school blazers behind and are treated the same as other first-year students. However, they receive customised academic support if required and one-on-one mentoring from volunteer student leaders.
"Participants are challenged to balance two identities: first as a school student with their peers, then as a university student studying alongside other first-year students," Ms Richards said.
The program is showing strong results with six of the eight students from 2014 going on to university this year. Many were the first in their families to enrol at university or were born outside Australia.
Regina Lai, a current Year 12 student at Victoria University Secondary College, says she has become self-motivated as a result of taking university business classes this year.
Other students such as Manor Lakes Secondary College's Kayla Davis and Caleb Haines see it as a way to fast-track future careers.
As the only two high school students in the state studying university-level paramedics, the Werribee teenagers are guaranteed entry into a very popular course after they graduate secondary school.
Manor Lakes College assistant principal Pierre Grzybek says the program is increasingly popular at his school.
As part of the same program, some 200 Year 11 students have participated in weekly on-campus university familiarisation sessions. Many are expected to enrol in VU university units as Year 12 students next year.
EUP background
Victoria University's Early Uni Pathways (EUP) program was developed in 2013 for secondary school students from non-traditional backgrounds to aspire to university. It was influenced by similar models in the USA (Early College High School) and is funded by a Commonwealth HEPP (Higher Education Participation Program) grant.
The program comprises Uni Link, a weekly on-campus university familiarisation program for Year 11 students, and Uni Study for Year 12 students to take university classes in addition to their secondary school classes.
Year 12 participants enrol in two first-year-units (one each semester) for three to four hours a week, attending the same lectures and tutorials as other first-year university students. They are supported by volunteer student leadership mentors and academic helpers.
Students can choose from a range of units approved by the Victorian Curriculum and Assessment Authority (VCAA) that may extend, but do not duplicate VCE curriculum. The units count as either the students' fifth or sixth VCE subject.
They include Creative Writing, Media Writing, Song Writing, Music History, Engineering Design, Applied Statistics, Bioscience for Paramedics, Business Law, and Marketing. In 2016, the program will introduce an Indigenous Studies unit.
The three pilot schools in the Year 12 program in 2014 were: Victoria University, Wyndham Central, and Manor Lakes Colleges. In 2015, Essendon Keilor, Hoppers Crossing, Lakeview, Footscray City, Melton, Staughton, and Kurunjang Colleges joined.
Of the eight Year 12 students in 2014, six went to university in 2015. Most were the first in their families to do so. This year, the program has 21 Year 12s. Most are planning to go to uni next year.
Participants benefit from the program because they:
do not pay for the university units
have guaranteed entry into a related course after they complete the program
become familiar early with university, including lectures, on-line learning and fieldwork
develop as independent learners and build their confidence
have access to university facilities and activities.
Since 2014, about 200 students have completed the Year 11 program. They were from schools in the Year 12 program, as well as Essendon Keilor, Lakeview, Footscray City, Melton, Kurunjang and Staughton Colleges. Point Cook College will join the Year 11 program in 2016.