Thursday 29 September 2016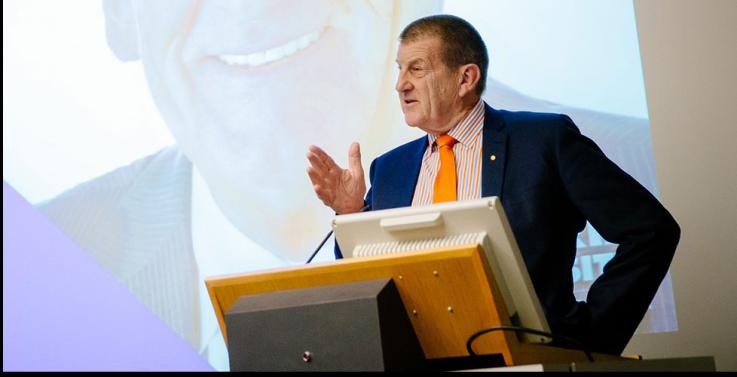 Speaking to a lecture theatre at Victoria University's College of Law and Justice, The Hon. Jeffrey Kennett posed the question "Is Australia's system of government best placed for the 22nd Century."
The Hon. Mr Kennett's lively oration addressed a number of key issues from generational unemployment, reforming tiers of government, the importance of strong leadership and addressing Australia's rising suicide figures.
The 40-minute oration was an opportunity for The Hon. Mr Kennett to reflect on career highlights and engage with issues that personally resonate with the former Victorian Premier and founder of beyondblue, the national depression and anxiety initiative.
Addressing a crowd including Victoria University's Vice-Chancellor and President Professor Peter Dawkins, Professor Andrew Clarke, Dean of the College of Law and Justice, The Honourable Michael Kirby AC CMG, and Victoria University law students, and staff, the former politician questioned the effectiveness of a three tier political structure, stating now is the "time for reform".
The Hon. Mr Kennett's other current roles include Chairman of The Torch (a program assisting incarcerated Indigenous men and women), Director of Equity Trustees Ltd and Chairman of Open Windows Australia.
Established in 2010, the annual Michael Kirby Justice Oration provides a platform for leaders within our community to share their experiences, deep understanding, knowledge and reflections on issues of justice.
The Hon. Michael Kirby served on the High Court of Australia with great distinction for thirteen years (1996-2009). The annual Kirby Orations pay tribute to his commitment to social justice and human rights and Kirby's relationship as friend, colleague and mentor to Victoria University's College of Law & Justice. He is an adjunct professor in the College.