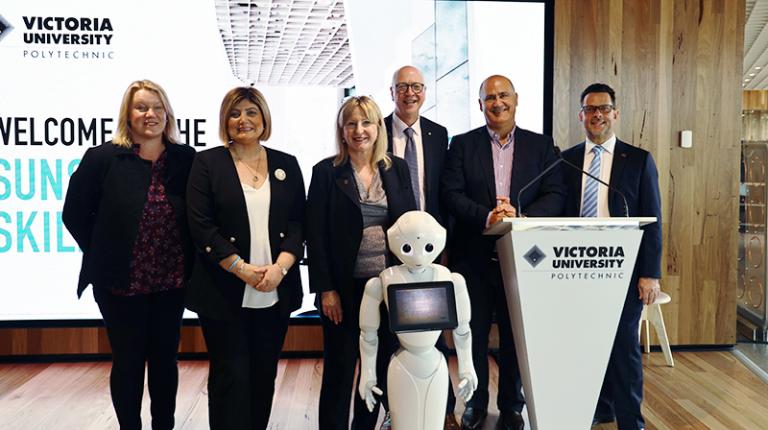 Students in Melbourne's west now have access to the brand-new Sunshine Skills Hub at Victoria University. Minister for Training and Skills and Higher Education Gayle Tierney today opened the new Sunshine Skills Hub and met with female students to celebrate International Day of Women and Girls in Science.
The Sunshine Skills Hub at VU Polytechnic includes a health and community services centre of excellence as well as an innovation and incubation space, along with a learning commons and cafe.  
Minister Tierney said: "Victoria University has played a critical role in Melbourne's west for the past 100 years and its new Skills Hub will continue to contribute to a thriving economy and a high-tech future.
"The skills that students develop at the Sunshine Skills Hub will drive innovation and will support our future economic success. The Hub will also form an important link between our schools, TAFEs, universities and industry."
The innovation centre is equipped with teaching rooms complete with cutting-edge technology to teach students advanced manufacturing, rapid prototype development and problem-solving skills.
Victoria University Vice-Chancellor, Professor Peter Dawkins said: "The Skills Hub complements our existing trades training facility and continues to enhance VU's Sunshine Campus as a leading site for high-quality vocational education and training, underpinned by cutting-edge education infrastructure. There is no doubt that Sunshine is on the cusp of greatness, with unprecedented major public investment and identified by the State Government as a priority precinct. We believe VU and the Sunshine campus have an important role in contributing to a great future for Sunshine."
The centre will give students the opportunity to get hands-on experience using robotics, virtual reality and writing code, 3D printers and exercising their problem-solving skills.
Victoria University Deputy Vice Chancellor, Grant Dreher said:
"This impressive state-of-the-art learning space offers students, people from industry and our community a dynamic, technologically innovative environment. The facility is purpose-designed to reflect the innovative nature of the programs it will offer as we prepare students and industry for the future of work.
"The Sunshine Skills Hub demonstrates Victoria University's ongoing commitment to providing relevant education and training opportunities in the west of Melbourne for many years to come."
The Hub will also support the development of industry partnerships, increase and expand vocational education opportunities, and help to reinvigorate the local community.
Victoria University committed $20 million toward the project, with the Victorian Government providing $10 million and $5 million. The $10 million was provided to Victoria University Polytechnic in 2016 under the TAFE Rescue Fund.