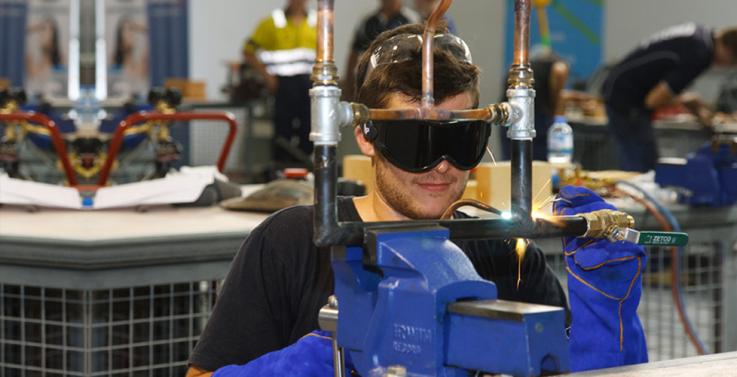 Three Victoria University trade students proved they are among the best in Australia at the 2014 national WorldSkills competition – known as the Olympics of vocational training – held last weekend in Perth.
The national championships are held every two years for hundreds of Australia's top apprentices and trainees to showcase their talent in about 50 trade categories ranging from beauty care to welding.
Gold medal winner and apprentice plumber Dylan Di Martino, 21, of Hillside can now join Australia's national team, the Skillaroos on the world stage next year at the International Worldskills in Sao Paulo, Brazil.
Dylan, who studies at VU's Sunshine Campus, said he was surprised to earn gold in the plumbing event during a close contest that required competitors to install kitchen, laundry and bathroom plumbing in a mock home over three days.
"I made a few minor mistakes on the third day and was convinced I couldn't win because we were all within five points of each other until the very end," he said. "The expectations are high and there's no room for error."
Dylan said his father Paul, a long-time plumber who left footsteps for Dylan to follow, watched the announcement of his son's win live over the internet from Worldskills headquarters at the Perth Convention and Exhibition Centre.
"As soon as the presentations were finished he messaged me about how proud he was," he said. "I've been working with him since I was little and am now showing him new tools and innovations in the profession."
The two other VU medallists were Steven Diberardino who took out the silver medal in the joinery category, and Clinton Levy of Benalla who received a bronze medal in signage.
The rest of the VU team who earned a spot in the nationals after winning their categories in regional heats were:
Lauren Karman - Beauty
James Brettell - Carpentry
Taylor Cox - Construction Steel Work
Dylan Linehan - Sheetmetal Work
Darren Barnes – Welding
Trades College Dean Kath Curry said the competition is a testament to Victoria University's innovative approach to trades training and its close links to industry.