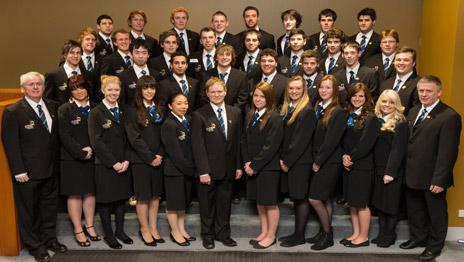 Congratulations to the Victoria University students who made it to the podium at the WorldSkills Australia (WSA) Competition held in Sydney.
More than 500 competitors from around the country descended on Sydney Olympic Park to showcase their skills. Fabian Guseli and Justin Gauci received bronze medals at this highly contested event.
Fabian Guseli, who has already found success in 2012 becoming the Victorian Master Builders Association Apprentice of the Year, won a bronze medal for his Joinery endeavours. VU Joinery Teacher, Nick Del Groso, was delighted with the continued success. "Fabian works hard to be the best he can be," says Nick. "He appreciates the experience of his Schiavello colleagues. He's open to advice and is always ready to learn new techniques."
Year 12 student at Emanuel College - St Paul's Campus, Justin Gauci was awarded bronze in the VETiS Construction category. "He is dedicated and focused on learning his craft," construction teacher Daniel Bonnici said. "Success like this reinforces the expertise he is gathering. Justin has a great future in this industry."
The WSA aim is to encourage Australians to celebrate vocational education and training, to shift perceptions and create the understanding that to learn a skill, to choose a skill-based career, is one of the most important decisions a young person and their family will ever make.
Victoria University has a distinguished history of providing exceptional training in the industry and is recognised as a premium provider. We offer all levels of construction industry training from certificate to Advanced Diploma.
For further information please contact
Phone: 03 9919 8493
Email: [email protected]