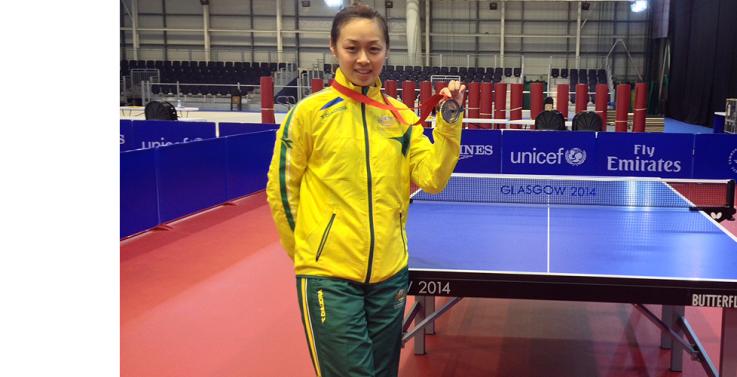 Victoria University students did us proud at the Commonwealth Games in Glasgow.
Miao Miao
Bachelor of Sport and Recreation Management
Miao, a four-time Olympian and four-time Commonwealth Games representative, is Australia's most decorated Table Tennis competitor. Miao had a great result in Glasgow commencing with a Bronze medal performance in the women's Team event; a quarter-final showing in the mixed doubles; and a Silver medal in the women's doubles, narrowly being defeated by Singapore in four sets.
Morgan Mitchell
Morgan Mitchell, 19, competed impressively in her first Commonwealth Games appearance. She ran a personal best in the heats of the 400-metre contest to proceed through to the semi-finals, where she finished sixth. A few days later she took to the track again in the 4x400m for Australia, finishing fourth in the final among a class field.
Gronya Somerville
Bachelor of Exercise Science and Human Movement
At just 19, Gronya is a rising star of Australian Badminton, already reaching the heights of international competition. Gronya had a full card of matches in Glasgow, reaching Round 32 in the Women's Doubles and Round 16 in the Mixed Doubles. She continues to have her eyes on the world stage in the coming year, with Rio 2016 a major future goal.
Ellen Pettitt
Master of Communication
Ellen Pettitt, 28, a previous winner of VU's High Performance Scholarship, finished competitively in the triple-jump final. She jumped a personal best 13.54 metres in her second jump, finishing sixth. A former high-jumper, Ellen is the first Australian athlete to compete in both vertical and horizontal jump events in international competition.
Kotuku Ngawati
Bachelor of Exercise Science and Human Movement/Bachelor of Psychological Studies
Kotuku Ngawati, 20, originally from Cairns, commenced as a VU student after moving to Melbourne to further develop her swimming. An individual medley (IM) specialist, Kotuku came into the Games with a strong personal best and a Silver Medal in the 100 IM at the World Short Course in Dubai in 2010 behind her. Kotuku swam in the 200 IM at Glasgow and finished fourth in her heat and 12th overall.
Sara Collins
Sara Collins, 23, a member of the VU Vultures Australian University Games-winning team in 2012 and a previous VU High Performance Scholarship recipient, fought well in her contests but was unsuccessful against both her Scottish and Canadian opponents, both of whom tied for the Bronze Medal in the later rounds. Sara bowed out in the quarter final repechage stage of 70kg category.
David Powell
David Powell, 23, competed in the Singles (third round), Men's Doubles (third round), Mixed Doubles (fourth round) and Men's Team (quarter finals) divisions for a fantastic week of performances. Starting the sport at age 8, David's peak career performance was achieving bronze medals in the men's singles contest at the 2008 and 2010 Australian Senior Table Tennis Championships.
Alumni
Julie Corletto
A current defender for the NSW Swifts, Julie played a pivotal role in gold-medal winning final game of netball with the Australian Diamonds as they defeated their nemesis, New Zealand. The Diamonds were dominant through the Games, challenged only by England. They easily dispatched Jamaica in the semi-finals, and developed a comfortable margin over New Zealand that they gradually increased in the close of the final.
Liam Adams
Champion long-distance runner Liam Adams, 27, recorded a personal best and placed seventh in the second marathon he has ever competed in. Liam was twice named Australia's best male university student athlete in 2010 at the Australian University Sport Awards, and was VU's male athlete of the year in 2009 and 2010. He is also a two-time winner of the 14-kilometre Sydney City2Surf competition, the world's biggest road running race.
Ross Smith
Ross, a dual Olympian, had a full card of competition in Glasgow. He competed in the Men's Doubles, reaching the quarter finals before losing to Malaysia, the eventual Gold medalists. Ross teamed up with another VU alumna, Renuga Veeran in the Mixed Doubles making it to Round 32, and then the Mixed team category, which included VU student Gronya Somerville. That pair reached the quarter finals, losing to Singapore, the eventual Bronze medalists.
Renuga Veeran
Renuga started playing Badminton when she was six years old, and made the Olympic team for London 2012. In Glasgow, she competed in a class field with Singapore, Malaysia, England and India among a host of other nations vying for medals. Renuga was successful in reaching Round 6 in the Women's Doubles, Round 32 in the Mixed Doubles with Ross Smith, and into the quarter finals of the Mixed Team with Ross and Gronya Somerville. Renuga was VU's 2013 Elite- High Performance Sport Scholarship recipient.
Fiona Themann
Fiona Themann competed as a member of Scotland's Scottish Thistles netball team. She was a member of Victorian Fury netball team and the co-captain of Western Lightning Championship team in the Victorian netball league. Scotland improved their performance during the Games to win their final match and claim ninth place. This was Fiona's first Commonwealth Games.
Ali Abdo
Ali has competed in wrestling at three Olympic Games (Sydney, Athens and Beijing) but this was his first Commonwealth Games. He had previously competed in the 74kg category but stepped up to the 86kg field for Glasgow. Ali fought well and was competitive in his bouts but bowed out of the Games to the eventual Gold medalist from Canada in Round 16.
Mehrdad Tarash
Competing in his second Commonwealth Games, Mehrdad recorded an early win against Northern Ireland in the 65kg class. He continued to be competitive in his bouts but bowed out in the quarter-final stage against South Africa.