Wednesday 21 September 2016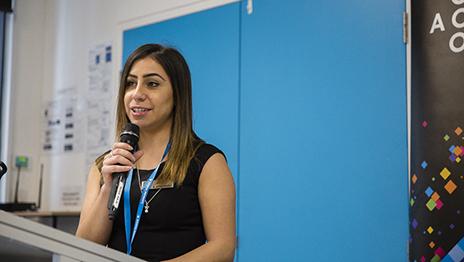 VU students were motivated to influence social change after attending the seventh annual Student Leadership Conference held on Friday 16 September 2016 at the Melbourne Multicultural Hub.
Over 90 students from diverse cultural backgrounds and disciplines participated in a full day of presentations, workshops and networking under the theme "Leadership for Social Change".
Students were inspired by the stories of adversity and the life lessons learned from the presenters.
Opening speaker Rhyll Dorrington, CEO of Western Chances, reflected on how she felt like an unlikely leader and the major life events which influenced her career choices.
Students were also treated to workshops with:
Koky Saly, a refugee whose social ventures built five schools and fund English classes for Cambodian kids
VU Entrepreneur-in-Residence Gus Balbontin
VU alumni Tim Marchinton, founder of not-for-profit Purple Soup, which offers adventure camps and day programs to sick children
VU Student Leadership Coordinator Liz Mordaunt, responsible for developing an enriched leadership program
Penny Daly, founder of The Welcome Group, which provides newly arrived refugees with material aid basics
Danya Sterling, Manager – Education Enterprises at The Big Issue.
Closing speaker Simon Griffiths discussed how he left his corporate engineering career to start Who Gives A Crap, a social venture which uses half of its profits to build toilets in the developing world.
As one student commented, "I wish I could go to all the talks by all speakers, could it be a two day conference?"
Photos of the conference are on the VU Student Life Facebook.