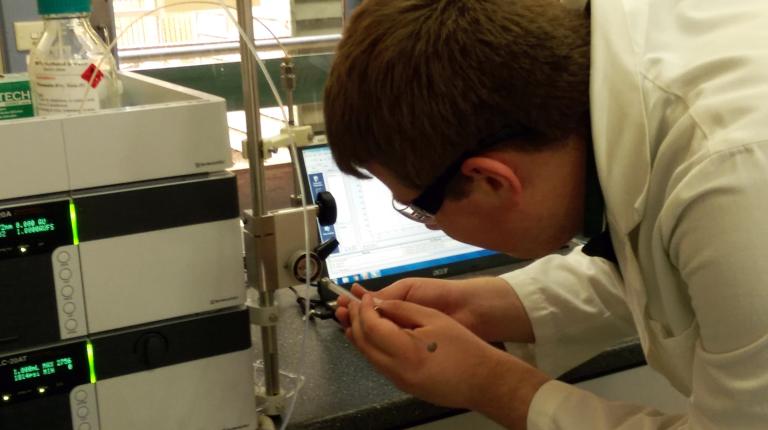 Secondary school students from Shepparton and the surrounding area will be conducting amazing experiments with state-of-the-art science equipment brought to the region as part of Victoria University's free Science Roadshow.
The annual Roadshow, VU2U, is designed to inspire the next generation of Australian scientists by bringing otherwise inaccessible science equipment to regional Victoria. VU2U will be in Shepparton at host school, Wanganui Park Secondary College from 15 to 18 July.
Years 9 and 10 students can join the Be a Chemist for a Day program, while Year 11 students can put VCE theory into practice using high-tech analytical instruments in the VCE Chemistry Practicals program.
The high-tech equipment, obtained by VU through a partnership with Shimadzu Scientific Instruments, will give students opportunities to:
convert Aspirin to Dencorub (Deep Heat);
change vinegar into banana essence;
investigate a chemical clock;
use an award-winning magnetic wand invented at VU that helps wildlife caught in oil spills.
New focus on biomechanics and sport science
This year, students will also be able to explore biomechanics – the science of human movement – a key component of the VCE Physical Education courses, as well as sport science.  Psychology students can also learn about critical parts of their senior curriculum.
Alongside the Science Roadshow, VU will run a Careers Fair for younger students to introduce them to a range of occupations in the health and biomedical sciences including paramedicine, osteopathy and nursing.
The VU Science Roadshow reflects VU's support for a national focus on science, technology, engineering and mathematics (STEM) education, which is critical to equipping young Australians with necessary skills and knowledge for jobs of the future.
VU2U Science Roadshow manager, Loretta Konjarski, said changes to the VCE curriculum mean a greater emphasis on the use of sophisticated technology, but many students outside of major cities don't get this opportunity. 
"Many regional students do not have access to the right equipment to conduct experiments and so miss the chance to merge theory with hands-on experience."