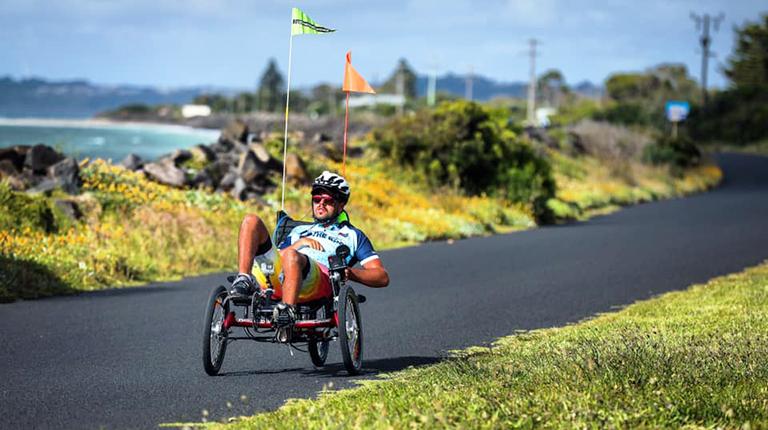 Smashing adversity and surpassing goals is second nature to stroke survivor Tommy Quick. Now the VU alum is going places to help improve the lives of others, raising money in a never-before attempted ride to the four most extreme points of Australia.
Since the age of 12 when he suffered a massive stroke, Tommy has relentlessly pushed towards his goals. After recently earning his Bachelor of Human Nutrition at VU, Tommy is now focused on his next challenge: the ride of his life to raise vital funds and awareness for stroke survivors.
Waking after five weeks in an induced coma, Tommy had to learn to swallow, walk and talk again. It was a long and tough recovery that continues to this day.
"Going back to school the following year was harder than I could have imagined," he says. "My attention span was impaired and it was difficult to concentrate on things I wasn't interested in."
This is why it was so important for Tommy to study subjects he was passionate about.
I've been lucky that teachers all throughout my education have influenced and inspired me.
With a passion for sport, Tommy enjoyed studying PE in VCE, and after school he pursued Fitness studies at VU Polytechnic, becoming a personal trainer.
"I discovered a course pathway into VU's Bachelor of Human Nutrition which enabled me to build on my knowledge in fitness and focus on health and nutrition."
In 2014 Tommy completed the notoriously grueling Kokoda Track. Coming off the high from that achievement left him craving the next physical challenge.
I was looking for my next challenge, and I wanted to make a difference and raise money and awareness for stroke survivors. I decided to tackle an epic 9000 km bike ride around Australia. It's never been attempted before and I'm hoping to visit 100 schools and raise a million dollars.
Our community is behind Tommy all the way – donate to his fundraising page and follow his expedition on social media.
Tommy's itinerary
Tommy will be driving from Melbourne to WA on 12 July to officially start his ride.
2 August: official ride departure from Steep Point WA, arriving in Adelaide mid-October
19 November: travel through Melbourne to Wilson's Promontory
3 December: key note speaker at International Day of Disabled Persons event
6 December: depart Melbourne, arriving in Canberra around 19 December
31 January 2022: depart Canberra and arrive in Sydney on 8 February
12 February: depart Sydney and travel north towards Cape York.