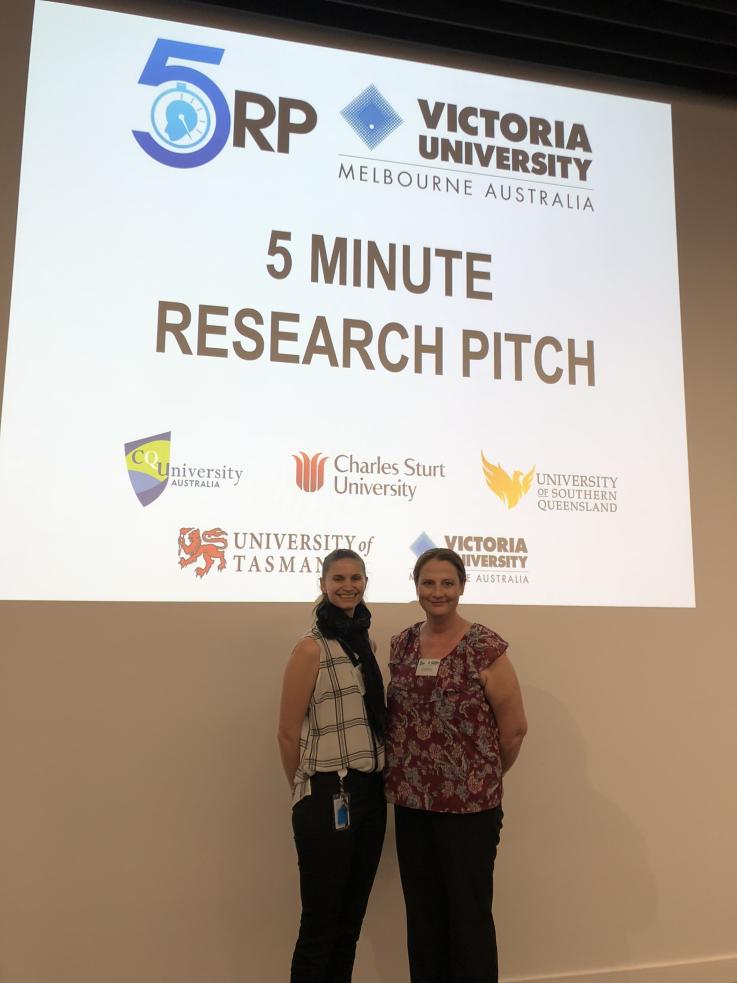 Eight of VU's top early-career researchers showcased their work in the annual 5 Minute Research Pitch (5RP) for the chance to win $1000 and a trip to the national finals in Queensland later this month.
Dr Lannie O'Keefe, an accredited dietitian passionate about health and all things food, won the Sciences and Health category for her discussion on the role palm oil plays in obesity.
Dr Michaela Pascoe won the Arts, Humanities and Social Sciences category with her presentation on the importance of stress-management programs in secondary schools.
The competition is similar to the 3 Minute Thesis competition for PhD students.
Other VU participants were:
Dr Amanda Genders – Mitochondrial content and function
Dr Joanne Griggs – Prader-Willi appetite and cactus extract
Dr Roan Plotz – Interspecies relationships of the black rhino
Dr Neil Fernandez – Adaptive learning tools for pre-service teachers
Dr Fiona MacDonald – Evaluation of the Victorian Schools Breakfast Club
Dr Marc C Scott – Australia's TV-viewing habits
The 5RP is a re-branded version of the Australian Competitive Research Symposium (ACRS), which VU has participated in for the past five years.
Participating universities include national host, University of Southern Queensland; Central Queensland University; Charles Stuart University; Southern Cross University; University of Tasmania; and Victoria University.