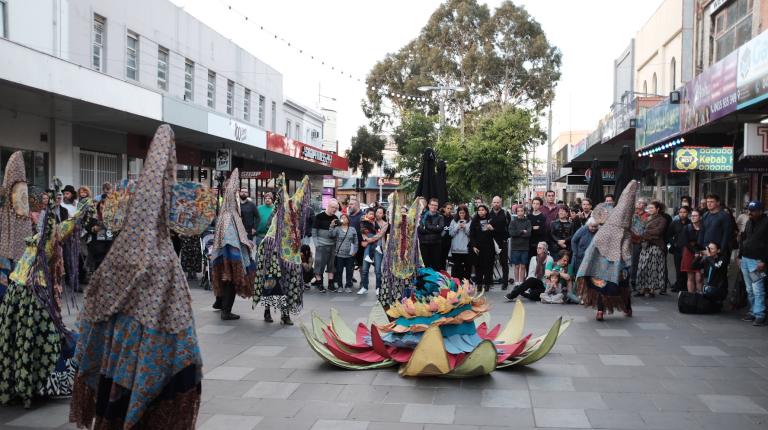 An estimated 10,000 people streamed into central Footscray on Friday the 22nd of November for the annual One Night in Footscray program produced by Victoria University and Maribyrnong City Council as part of the Footscray University Town initiative.
Established in 2017 to celebrate and showcase Footscray's creative communities, this year's program increased significantly, with over 35 activities creating a buzzing vibe.
When combined with the calm, mild weather, there was no stopping the on-foot exploration of art exhibitions, performances, interactive installations, pop-up bars, music and food specials at local businesses from Footscray Train Station to the Library and Barkly Street.
The early-evening family-friendly events morphed beautifully into a late-night party town. Bar Josephine was transformed into a glow-in-the-dark kids' zone with science experiments for young and old; and people got to try their hand at making clay tiles at Makers Window.
Storytelling was a big theme this year, with the Footscray Library the perfect hub. People's palms were read and fortunes told by the Palmistry of Pointlessness; powerful feminist statements were painted onto flags and strung up on the ceilings with Sonia Zymantas; ArtLife performed their tales; and a book was filled with reflections and drawings from the comfort of an armchair.
Visitors witnessed giant Snuff Puppets congregating in Nicholson Mall, with puppet creations including a bear led by skeletons and scattered body parts. Their appearance culminated with a group of mesmerising figures conducting a ritualistic dance. Rolling alongside the Snuff Puppets were a new addition to the program - Street Skeeters by Memetica. These prehistoric creatures moved around the streets of Footscray using wheelchairs to playfully draw attention to themes of accessibility through site-specific performance.
The L2R Dance crew, Phoenix Youth, Victoria University Music Agency stage, VIDA block party, and Sitars 'n' Bleeps at The Night Heron had people dancing until late into the night. Chambers Lane and Maddern Square were still pumping with DJ beats and salsa dancing as One Night in Footscray wound down at 11pm.
This is just a taste of what that happened at One Night in Footscray 2019. We can't wait to see what 2020 will bring!
Did you attend on the night?
We'd love to hear your feedback.
Please complete a short survey and help us continue to improve the program.