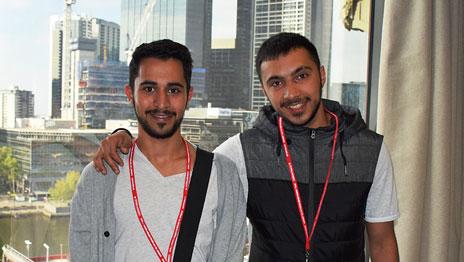 Up to 100 students from countries including India, Pakistan and China have touched down on Australian soil to begin courses in English language, business and IT at VU College.
As the academic year draws to a start, scores of students have converged on VU's City Flinders Campus today (Friday, February 12) for a jam-packed orientation event to prepare them for the Diploma of Business (Enterprise) and Diploma of Information Technology at VU College, as well as English preparation programs.
Established in 2015, VU College is a specialist teaching institute of Victoria University that enables both domestic and international students to enter VU degrees through a number of pathway diplomas, including business, engineering and IT, as well as several English language courses.
By successfully completing a one-year diploma at VU College, students gain direct entry to the second year of corresponding bachelor degrees at VU.
Speaking at the orientation, VU College Director of Teaching and Learning Brendan McCarthy welcomed the students to Melbourne and wished them "all the very best" in their forthcoming academic journeys.
"On behalf of VU College, I hope you settle into Melbourne and your course as soon as possible," Mr McCarthy said.
"I look forward to working with each and every one of you to make sure your time in Melbourne is successful, and that you graduate from your diploma with the highest marks possible," he said.
As part of the orientation, guest speakers including representatives from Victoria Police and Allianz Care briefed the group on such topics as safety, housing, health and finance before the students formally enrolled in their courses.
International student Basim Alhajji (pictured left), who has arrived from Saudi Arabia to study English language and the Diploma of Business (Enterprise), said he chose VU because of its central Melbourne location and reputation for helping students to achieve success.
"Melbourne is a good place for studying and living," he said.
"My cousin told me about VU – it helps you to achieve many great things in life."
VU College orientation sessions will continue next week, with an event for both international and domestic students to be held on Friday, February 19, focusing on the specific units of study, assessments and key dates for each diploma.