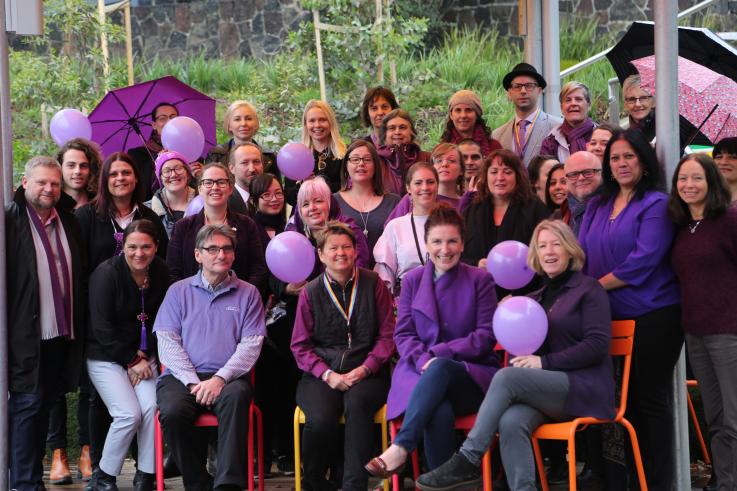 Winter in Melbourne can be a little dreary, but not today.
Despite light showers, Victoria University students and staff from Footscray Park campus turned out to help celebrate Wear It Purple Day — and enthusiastically showed their support for VU's LGBTIQ+ community. 
On Twitter, VU's Vice-Chanellor, Professor Peter Dawkins proudly sported a purple shirt, and tweeted 'I am wearing purple today, are you?'.
Wear it Purple Day celebrates diversity
The Wear It Purple Day campaign is about creating a supportive, safe and accepting environment for all, but especially for young people. Founded in 2010, Wear It Purple Day is now an international movement encouraging everyone to treat each other with respect and celebrate diversity.
Jo Van-Son — Director Centre for Student Success — says the day is particularly important for young people who are "trying to find their way in a world that constantly reinforces the heterosexual norm. The reality is that life is much more colourful and diverse than that, so Wear It Purple day is about reminding young people that they are perfect just the way they are."
VU promotes positive action
In 2017, VU's staff Ally Network produced a strategy and a range of actions including promoting visibility of LGBTIQ+ and gender diverse staff and students.
Departments all over VU, including College of Health and Biomedicine (St Albans), Learning Hub (Flinders Street), Footscray Park Library and First Year College are hosting morning and afternoon teas featuring plenty of purple cupcakes. 
Shaun Eltham — Vice President of People and Culture — encouraged all staff to wear purple as a sign to students and other staff that "Victoria University supports a diverse, inclusive and respectful environment".
Twitter: @WearitPurple #WearitPurpleDay2018