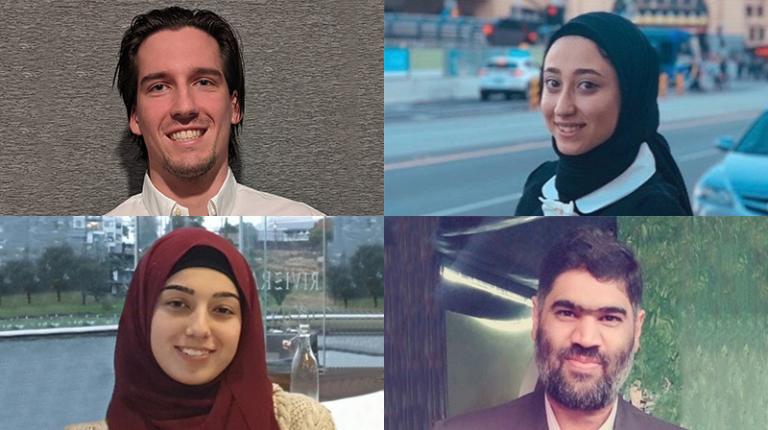 A group of Victoria University undergraduate engineering students from Melbourne's west have had the rare experience of seeing their research published in high-impact academic journals.
Research is not commonly expected from students at this level by peer-reviewed publications, says Dr Muhammad Tariq who taught the students a Research Methods unit as part of their final year 'capstone' project.
"With slight encouragement, motivation, and guidance, these students put in the many extra hours required to get their research published," he said.
The four civil engineering students helped author two separate sustainability studies, one on Australia's 'water footprints' published in Applied Sciences and the second, a ranking of Australia's 'smart cities' published in Sustainability
Both publications are leading Q1 journals as ranked by the international Scimago portal of scientific indicators and journals.
Dr Tariq, and his colleague, Dr Nitin Muttil – both water resource experts – volunteered to mentor the students in regular after-class sessions from the end of 2019 toward a goal of publication.
Block model flexibility helped with research
Dr Tariq said VU's block model of learning, which delivers courses one unit at a time, allowed the students the flexibility to focus on the demands of research publication, which meant several revision rounds before the studies were accepted.
"This is a practical example of the benefits of having concentrated time to focus on research during capstone projects," he said.
Zohreh Rajabi, 22, from Sunshine worked on the water footprints study. She said she wasn't originally interested when Dr Tariq told she has the right characteristics to be a researcher, but she now wants to do a PhD.
"I realised I wanted to work in an area where I had impact, where I could make a difference, especially for other women wanting to work in engineering research," she said.
Riley Damnics, 25, from Newport, who also worked on the water footprints research, is now a wastewater engineer with Southeast Water.
"The water industry has always been my passion and it's good to know the work I did is valuable and holds up to peer review," he said.
Maha Hussein, 21 from Altona North, worked on the smart-cities project, along with fellow student Alavaiola Fuamatu of Hoppers Crossing.
After her planned internship as a civil engineer with a local government fell through due to COVID-19, Maha said her publication experience encouraged her to consider a research career.
"It was a big achievement when I saw my name in print at the top of the article," she said. "I occasionally Google my name now just to find it," she said.
Unusual accomplishment for undergrads
Dr Tariq said although it is unusual for undergraduate students to publish research, it was a rewarding personal challenge to offer such highly-motivated students the opportunity to publish their research.
Eight other papers are currently underway under Dr Tariq's mentorship, including three from some of the same students who recently published.
"I didn't publish my first paper until I was doing my PhD but I believe our students are often smarter than us," said Dr Tariq.
"We are teachers only because we learned something first."