Thursday 3 September 2015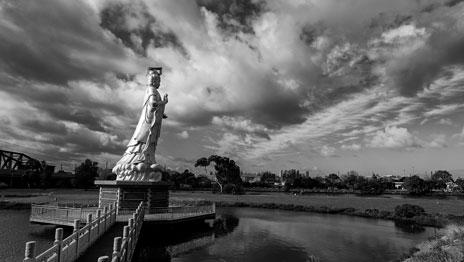 An exhibition that explores the hidden charms, histories and possibilities of the Maribyrnong River was launched yesterday at VU at MetroWest.
River of Lives is a collection of photos, film and soundscapes that celebrates the diverse and inspiring connection the Footscray community has with the Maribyrnong River.
The project is a collaboration between researchers at VU's Centre for Cultural Diversity and Wellbeing at Victoria University and Maribyrnong City Council.
The researchers, Drs Siew Fang Law, Michele Grossman and Ceridwen Spark – all long-time Footscray residents – were inspired by their appreciation and deep connections with the Maribyrnong River.
To prepare for the exhibition, they collected photos and conducted interviews with people from diverse backgrounds and experiences who spend time on the stretch of river between Farnsworth Avenue and the Footscray Community Arts Centre.
This yielded rich material that became the basis for the exhibition's commissioned film and photography.
The soundscape and slides are the images and voices of interviewees the researchers spoke with to understand what the Maribyrnong means to them.
This exhibition is for anyone who loves the Maribyrnong River – whether for its birds, boats, bikes or many other virtues.
River of Lives will run until Friday 18 September.
It links to a Game Changers' Conversation public discussion, Crossing the River, to be held at VU at MetroWest on 17 September.