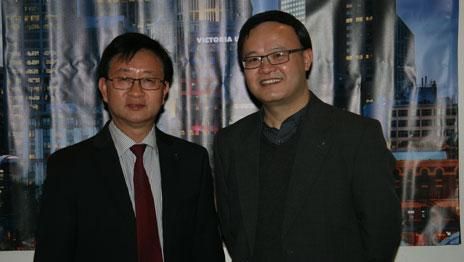 Victoria University will receive $510,000 in funding for two projects to improve medical data and student performance.
The grants have been awarded through the Australian Research Council's Linkage Projects scheme, as part of an $86.9 million package to promote links between industry and universities.
VU Pro Vice-Chancellor, Research and Research Training, Professor Warren Payne is delighted with the funding news.
"These significant grants demonstrate the strength of the University's applied and translational research, and the depth and high regard for our industry links" Professor Payne said.
The funding, announced last week by the Federal Minister for Education and Training, will support two of Victoria University's key research centres.
The first is a $450,000 project to improve access to electronic health data for medical researchers while ensuring patient privacy is protected. The $295,000 Linkage Grant to support this project will be led by Professor Yanchun Zhang, Director of Victoria University's Centre for Applied Informatics and undertaken in collaboration with Nexus Online.
Professor Zhang is an international research leader in databases, data mining, health informatics, web information systems, and web services. He has published over 220 research papers in international journals and conferences proceedings, and has authored or edited 12 books.
The second project will expand the scope of a long term study that tracks students through their final years of high school and post-school transitions, to better measure the education system's performance.
The $209,000 awarded to this project will be led by Professor Stephen Lamb, Director of Victoria University's Centre for International Research on Education Systems, and will be conducted in partnership with the Victorian Curriculum and Assessment Authority.
Professor Lamb has a distinguished record of contribution to educational research and policy, built over 30 years.
"I congratulate Professor Zhang and Professor Lamb on receiving these significant grants that will enrich knowledge in the health and education spaces, leading to sustained community benefits," Professor Payne said.