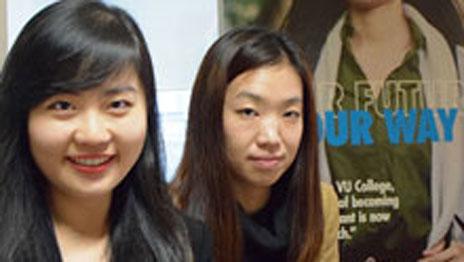 A giant teddy bear, fluffy kangaroo and scores of education agents were among special guests of a housewarming party for VU College on Friday (March 18).
More than 30 Melbourne-based education agents attended the afternoon tea, marking the move of VU College into the top three floors of VU's City Flinders Campus.
As part of the event, the agents were taken on a tour of the City Flinders Campus, including the learning commons, library and purpose-built teaching spaces on Levels 16-17, which include classrooms, computer labs and a staffed Independent Learning Centre for higher education and ELICOS students.
VU College provides higher education diplomas, English language courses, offshore programs and courses at VU Sydney to approximately 9,500 students every year. Officially launched in 2015, the College was initially based on Collins St before moving to its new Flinders St headquarters last month.
Some of Melbourne's leading education agents attended the housewarming party, including representatives from Oz Pathway Education Migration Service, Latino Australia Education, China Education International and Australia Education and Migration.
Education planner Jennie Liao (pictured left), of IAE Global Education Network, said VU College's city location – and impressive views – would be a drawcard for prospective students looking to study at a globally-ranked university.
"It's a great place – the view is amazing and the facilities are so modern," Ms Liao said.
"It's great to offer higher education diplomas at a central city campus because that's a growing area of demand for us," she said.
"If you're going to send students to an international university, the location can be a serious factor in their decision of where to study."