Parliament program for Victoria University law students wins national award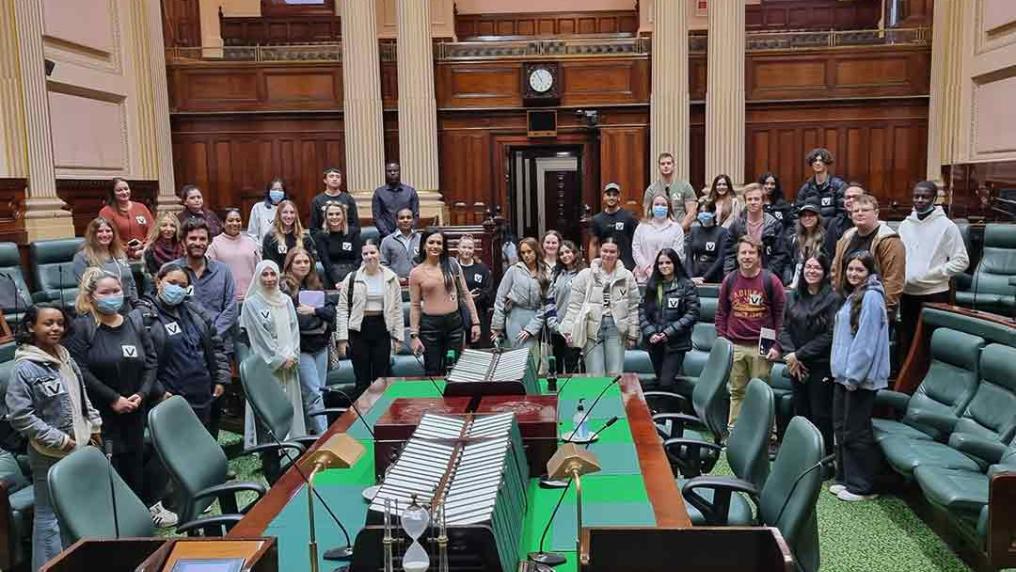 VU's award-winning Parliament Program sees students sit in Parliament to learn first-hand about law-making, and network with parliamentary officials.
Thursday 23 February 2023
A unique program that gives Victoria University (VU) law students a behind-the-scenes look at the Parliament of Victoria in their first week of study was honoured today with a prestigious Australian Award for University Teaching (AAUT). 
The Parliament Program, developed by Senior Law Lecturer Ms Kathleen Raponi, VU Connected Learning Senior Lecturer Dr Gayani Samarawickrema, and Parliament officials, received a citation by an independent panel of experts from Universities Australia for its outstanding contribution to student learning.
Since the program launched in 2018, hundreds of College of Law and Justice students have sat in the chairs of Parliament to learn first-hand about law-making and network with parliamentary officials.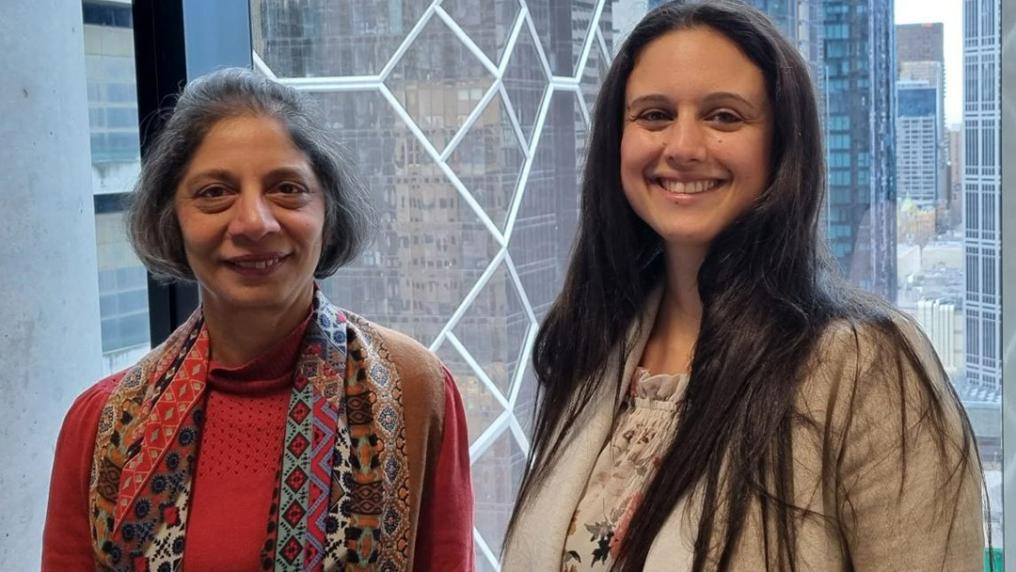 Australian Award for University Teaching (AAUT) recipients Dr Gayani Samarawickrema and Ms Kathleen Raponi.
Ms Raponi said:
For many of these students, Parliament is that imposing building at the top of Bourke Street where people pose for wedding photos. This program allows them to have exclusive access to officials and key parliamentary people who can help bring the Law and Justice curriculum alive. 
Program integrates law curricula
This is the first program at the Parliament of Victoria to include curriculum elements of a law course that students use in assessments.
"Students commonly learn Law through lectures and tutorials, but this program moves outside the classroom to learn from an immersive and authentic learning experience," she said.
Before their visit, students view a recorded lecture from parliament staff on law-making processes, while after the trip, they produce a reflective journal for assessment.
The Parliament Program builds on the VU Block Model and the support for commencing students from VU's First Year College. VU is the only university in Australia to have a college dedicated to guiding first-year students as they gain the skills, motivation and confidence to excel beyond first year during their transition to university.
First Year College Dean Professor Andrew Smallridge said the program was a "shining example of how new approaches to transitioning students to higher education in their first weeks can have a significant impact on the student experience and provide a strong foundation for future success."
Since publishing findings of the program's impact on the engagement and retention of law students, the team has worked with other law schools around Australia to support them in implementing similar programs.
The Parliament Program has previously received institutional recognition acknowledged through a Vice Chancellor's Citation for Excellence in Learning and Teaching, and a First Year College Award for Excellence.
During the pandemic, organisers successfully amended the program and delivered it via Zoom.