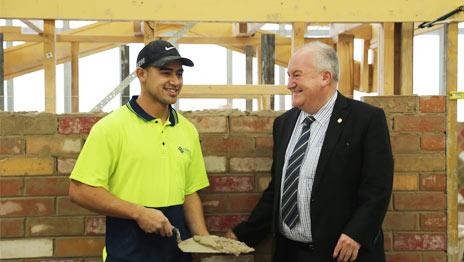 The Hon Steve Herbert, Minister for Training and Skills visited Victoria University's state-of-the-art Construction Hub with Vice Chancellor, Peter Dawkins and Chancellor, George Pappas.
One of Australia's longest providers of vocational education and training, VU is strengthening its commitment to excellence in this field by ensuring governments fully understand the importance of high quality facilities and experienced staff.
The Sunshine Campus houses one of the state's best training facilities for trades such us bricklaying, carpentry, plumbing, electrotechnology and sign industry.
Minister Herbert took advantage of the campus' popular trades facilities tour to see how training has advanced since Victoria University first commenced courses in 1916.
VU continues to develop award-winning students in the trades sectors, including Daniela Lopez-Granada  and Dylan Di Martino  who have both been awarded national honours in the past month.
This is first time the University's most senior leaders showcased some of the state's best training facilities to the new Victorian Government.