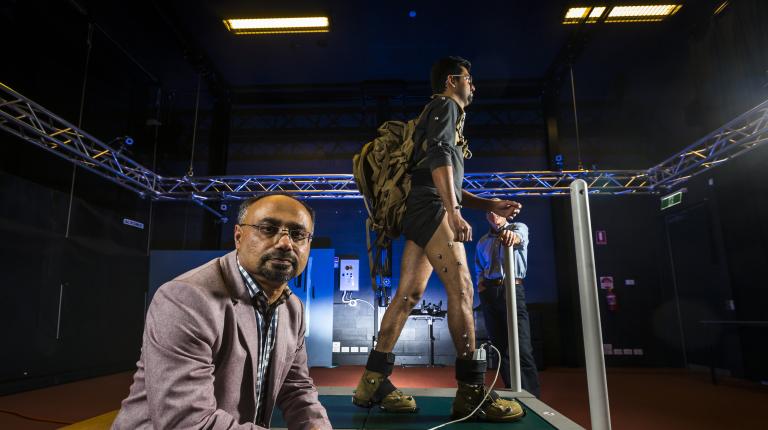 Professor Rezaul Begg from the Institute for Health and Sport is one of 15 recipients to receive a combined $2.8 million grant from the Victorian Government via the Study Melbourne Research Partnerships program delivered by veski.
The grant supports international research collaborations with Victorian universities and TAFEs across research projects covering mining, advanced manufacturing, health and education.
Melbourne Research Partnerships also supports major projects between 11 Victorian public institutions and international industry or institutional partners from 12 countries, including South Korea, Japan, Indonesia and Vietnam.
Professor Begg and postdoctoral research fellow Dr Hanatsu Nagano are partnering with the Japan-based exoskeleton manufacturer CYBERDYNE and Tsukuba University to bring exoskeleton-assisted movement rehabilitation to medical and research facilities across Australia, including Western Health and potentially the new Footscray Hospital, currently under construction opposite VU's Footscray Park campus.
"We are very excited and honoured our research has been recognised by veski and we look forward to collaborating with CYBERDYNE on work that has the potential to positively impact Greater Western Melbourne," said Professor Begg.
Victoria University is one of only a few organisations worldwide to combine advanced biomechanics, robotics, computational intelligence and wearable sensors. CYBERDYNE developed the world's first Hybrid Assistive Limb (HAL) exoskeleton. Both organisations have world-class facilities including Victoria University's Biomechanics Laboratory.
Combining Victoria University's innovative 'smart' joint-controls with the world's first HAL exoskeleton developed in Japan, could reduce injuries due to falls and assist a wide range of clinical populations such as post-stroke rehabilitation. The project aims to tailor the exoskeleton to individual patient's requirement, drawing on the University's expertise in machine learning and gait biomechanics.
"Global Victoria and Study Melbourne are proud to support Victorian researchers who are making a difference to their communities and the world – their innovation, ingenuity and collaboration in these projects is a reflection of Victoria's world-class reputation for research excellence," said Gönül Serbest, Chief Executive Officer of Global Victoria.