Wednesday 22 October 2014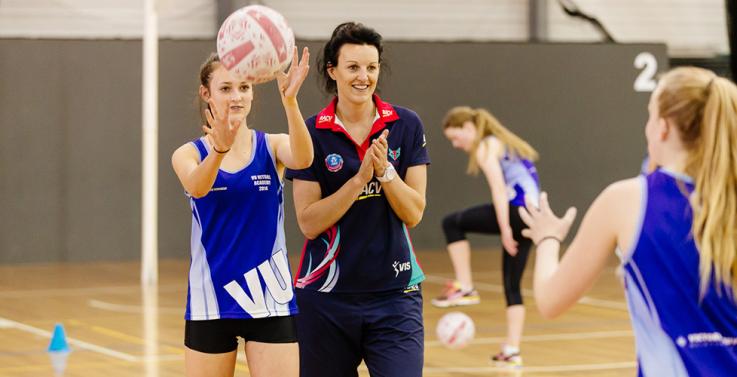 Members of the VU Netball Academy recently enjoyed a visit from Melbourne Vixens captain, Bianca Chatfield.
Chatfield dropped in on 10 October to run a training session for the Academy at VU Community Sports Stadium, running the girls through some elite level training techniques and sharing her experiences as a player and professional athlete.
Victoria University is a major sponsor of the Melbourne Vixens and established the VU Netball Academy in 2010. The Academy is made up of 35 girls as part of an Under 15's and Under 17's squad and provides additional training to juniors to help them reach the ranks of elite teams such as the Vixens.
Each year during trials in December and February, 35 girls are selected from over 120. Throughout the year they undertake a monthly training program that includes nutrition therapy, athletic testing, injury management and osteopathic therapy. They also complete a weekly diary that covers diet, playing, training and school.
The Academy is an important stepping stone for many girls as they work towards selection in a Victorian Netball League (VNL) team. From the 35 girls within the Academy, eight have been successful in being selected in VNL teams or within Development Squads, including Monash, Ballarat, Melbourne University Lightning and City West Falcons.
Note: Victoria University and The Melbourne Vixens had a long-standing partnership until August 2018.