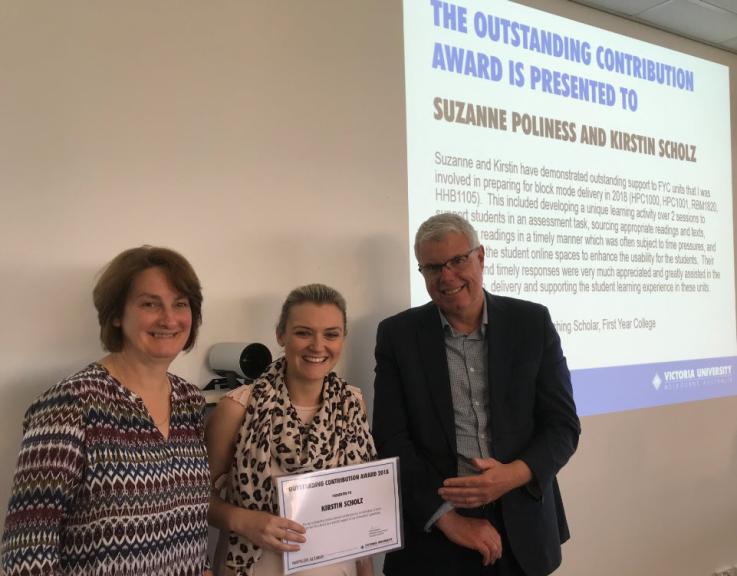 Victoria University Library staff were recognised at the 2018 Library Awards and the Vice-Chancellor's Awards.
Staff were acknowledged for outstanding contribution, service or innovation at the 2018 Library Awards, and for excellence in student engagement and professional services and innovation with Vice-Chancellor's citations.
Congratulations to the recipients, and thank you to VU staff and students for submitting nominations to recognise Library staff for their outstanding contribution or service.
2018 Library Awards recipients
Outstanding Contribution Award
Winners: Suzanne Poliness, College Librarian (Health & Biomedicine, Victoria Polytechnic) and Kirstin Scholz, Librarian.
The award recognises their outstanding and sustained contribution to a specific aspect of the University's operations. "Suzanne and Kirstin have demonstrated outstanding support to FYC units…developing a unique learning activity over two sessions to support students in an assessment task, sourcing appropriate readings and texts, uploading readings…Their expertise and timely responses were very much appreciated and greatly assisted in the preparation, delivery and supporting the student learning experience in these units."
Service Award
Winner: Josie Cipollone, Library Officer (Footscray Park).
The award recognises Josie's excellence in service and displaying the qualities of resilience, flexibility and adaptability. "Josie has worked at VU for over 23 years.  Josie is nominated for her exemplary service, her commitment to maintaining service standards and excellence, and for her continued support for students and her colleagues.  People are the library's greatest asset.  Josie has always been an important member of the library team and her knowledge and dedication is an important part of the library's continued success."
Innovation Award
Winners: Julie Gardner, Digital Repositories Coordinator; Jennifer Murphy, Educational Services Librarian; Barbara Gutthann, Digital Services Officer; and Yimin Zeng, Digital Services Officer (Systems Support).
Nominated by VU Library staff, the award recognises achievements in generating ideas, being entrepreneurial, developing workplace relationships and turning ideas into products, processes and services with the VU EasyRef online Referencing Tool.
2018 Vice-Chancellor's citations
Library staff as part of a team received citations at the Vice-Chancellor's Awards for:
Excellence in Student Engagement: De-stress Fest Team with staff from the Library (Garry Potter, Alexandra Tretiakova and Cindy Mohammad), Student Life & Leadership, VU Sport and Health and Counselling & Accessibility
Excellence in Professional Services and Innovation: LibChat (Chat online with a librarian) Library Online Chat Service Team: Jenny Comley, Tracy Dexter-Ingram, Sally Hand, Lesley Nelson and LibChat Service Staff