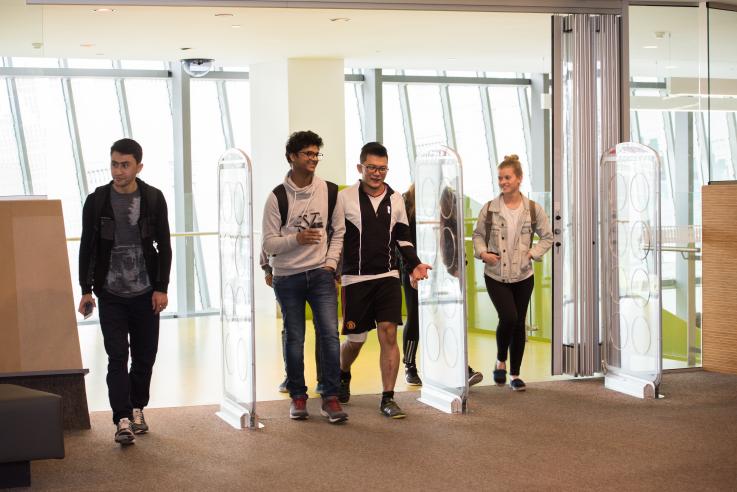 Find a quiet place and the resources to study at the Library which is open during the mid-year break (22 June-21 July).
All campus libraries (except Sunshine Library closed 29 June - 14 July) will be open on weekdays, and some campus libraries will be open weekends, for winter school.
Extended hours at City Queen Library 
From 24 June - 19 July, City Queen Library will be open from 8am-9pm on Monday-Friday and 12pm-5pm on Saturday.
Check library opening hours.
Study resources
Find your quiet spot in the library, or book a study room for group study or a PC to access our online resources.
On the library homepage, you can use the Library search box to search and find:
books to borrow – you may borrow as many print books as you need
e-books to read entirely online, or download to your PC or mobile device
journal articles 
videos
You can also use the link A-Z databases (external link) to access over 300 databases.
Getting help
For advice and help to find and use resources, you can choose the following services:
Online Library guides
There are various Library Guides to suit your needs: 
Library course and unit guides provide library resources for a specific course or unit. 
How to Guides explain common library tasks: finding resources, using e-books, evaluating information, and conducting a literature review.
Referencing Guides explain how to reference, or list, the resources used in assignments.
VU EasyRef
VU EasyRef (external link) is an easy-to-use interactive referencing tool accessible on mobile for referencing support when you need it. Watch short video on how to access and use VU EasyRef. 
Chat
Chat, part of the 'Ask a Librarian' service, is online assistance available:
via the Library website
within VU Collaborate.
Library service desk 
Service desk staff can assist with:
computing and printing facilities
setting up MyVU access
student email and other essential online tools
accessing the library's range of online resources.
Study focused
To stay focused and achieve your study goal, you can get some tips from Lynda.com which is a database of video courses for work and study skills:
staying focused – short video from the course Overcoming procrastination
improving your focus
study skills: reading techniques, note taking, improving memory and creating a study plan
time management for students
goal setting: successful habits – why goal setting works, establishing your goal setting list
yoga and stretching at your desk; productive meditation; mindfulness
For free access to Lynda.com, search the A-Z databases for Lynda.com (external link) and use MyVU login to connect to Lynda.com. If you need assistance, ask Library service desk staff.