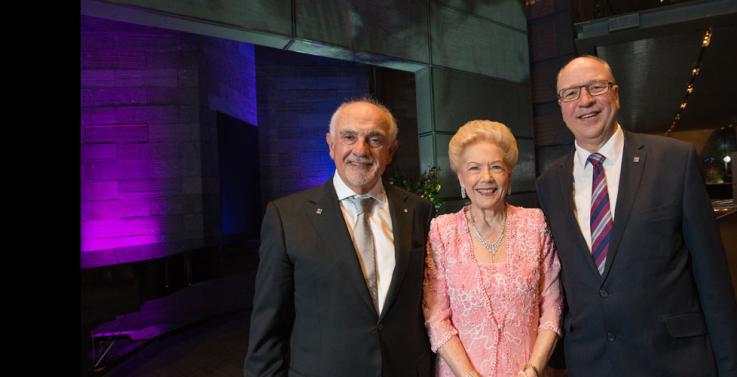 More than 450 entrepreneurs, artists, scientists, politicians, philanthropists and educators witnessed the donation of $1.5 million in support of life-changing scholarships to celebrate VU's Centenary of Opportunity.
Many of those gathered under the world's largest stained-glass ceiling in the National Gallery of Victoria's Great Hall on 21 May were Victoria University graduates.
It was fitting that the ceiling, described as a 'Persian carpet of light', shone over the centenary celebration because, back in 1974, it was the setting for a key moment in Victoria University's history when Footscray Institute of Technology (now Victoria University) conferred its first undergraduate degrees.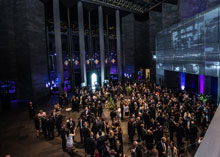 The current Chancellor of Victoria University, Mr George Pappas AO, welcomed a broad spectrum of special guests to the NGV including:
Federal Minister for Education and Training, Senator The Hon. Simon Birmingham, representing the Prime Minister of Australia
Victoria's Minister for Training and Skills, The Hon. Steve Herbert
Shadow Minister for Higher Education, Research, Innovation and Industry, Senator Kim Carr, representing the opposition leader
a range of politicians representing communities served by Victoria University
former Chancellors and Vice-Chancellors
a number of distinguished alumni, some of whom had travelled thousands of kilometres to join the celebrations.
"We are incredibly proud of all Victoria University graduates. Each of our alumni at tonight's celebration personify Victoria University's special character and are wonderful role models for current and future students," Mr Pappas said.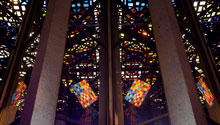 Victoria University's Vice-Chancellor Professor Peter Dawkins believes the ongoing success of Victoria University graduates reflects and reinforces the ambitions of the University for its students and staff.
"Tonight's gala celebration brings together the rich tapestry of the Victoria University community and the program highlights our strengths from the arts and science to sports and law," Professor Dawkins said.
Demonstrating a commitment rarely seen by leaders within the university sector, Professor Dawkins went on to announce that he and his wife would donate $500,000 over five years to support the University's scholarship funds.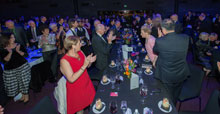 "I am pleased to tell you that my wife Sue Sleep and I have decided to make this gift to the Centenary campaign. I have seen many examples of students whose lives have been transformed by the power of education at Victoria University, many of whom have been supported by scholarships," Professor Dawkins said.
His announcement was accompanied on the night with another pledge of $1 million from Victoria University Foundation Chair, Dr Susan Alberti AC, which will also help support University scholarships.
These two gifts are in addition to the $1 million being donated over the next five years to fund scholarships by Chancellor, George Pappas AO, and his wife Jill Pappas, pledged at the Centenary Program Announcement last year.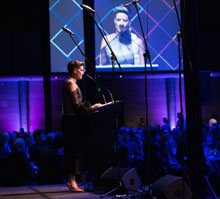 ABC News Radio's Tracey Holmes hosted and compered the event and shared stories of Victoria University alumni who have achieved outstanding success professionally and made a major contribution to the University and the communities they serve.
Holmes also led a conversation with key guests including businessman and philanthropist Harold Mitchell AC, Victoria University Foundation Chair Susan Alberti AC, former Attorney-General of Australia Nicola Roxon and international education advocate Elizabeth Lee. Each shared their insights into the future of Victoria University.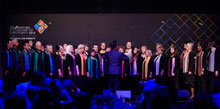 Guests experienced a very special performance by the Choir of Opportunity, led by Dr Jonathon Welch AM from the School of Hard Knocks. In keeping with celebrating the diversity of talent within Victoria University's community, the Great Hall was decorated with installations from a group of engineers and scientists from the College of Engineering and Science creating a fusion where science meets art.
The Centenary Gala Dinner brought together the many branches of the Victoria University family tree, including community leaders, outstanding students, distinguished alumni from around the world, and some of Victoria University's longest-serving staff.
The Centenary Gala Dinner is one of a number of events being held throughout 2016 to celebrate Victoria University's Centenary of Opportunity.