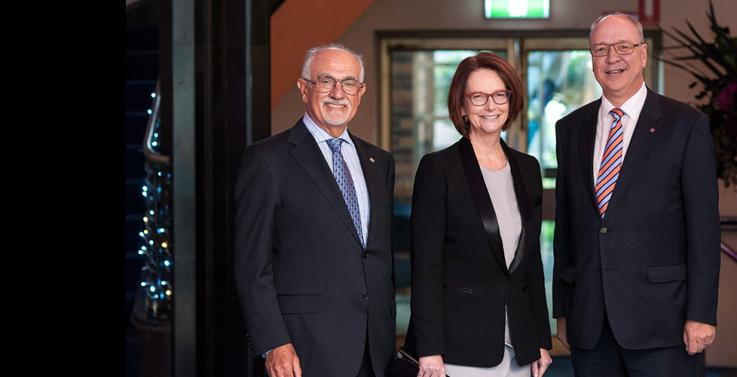 Former Prime Minister Julia Gillard has launched a new scholarship fund for Victoria University students honouring two inspirational women from Melbourne's west.
The Kirner Kosky Scholarship Fund bears the names of Joan Kirner and Lynne Kosky, who shared a commitment to education and public service through their long and highly respected careers.
In addition to offering scholarships for students from the west, one Kirner Scholarship and one Kosky Scholarship will be awarded each year to two young women from Melbourne's west studying at Victoria University, and will include mentoring from a female community leader.
The fund will support scholarships in perpetuity to provide an enduring legacy for both women.
VU Chancellor George Pappas and his wife Jill, announced their personal donation of $1 million to the fund at the event. In doing so, the Chancellor said the University chose to establish the jointly-named fund to acknowledge the many parallels in the women's careers, and their own strong personal connections to Victoria University.
Both women represented Melbourne's west in state government, and both had a strong belief in education playing a key role in shaping Victoria.
As member for Williamstown, Joan Kirner served as Premier of Victoria and occupied many ministerial posts including that of Minister for Education from 1988–1990. In this role, she oversaw the transformation of Footscray Institute of Technology to Victoria University of Technology.
Lynne Kosky represented Altona from 1996 until her retirement in 2010, holding senior ministerial posts in the Bracks and Brumby Labor governments. Prior to entering Parliament, Lynne was a member of Victoria University of Technology council, and a councillor and mayor at Footscray City Council.
The University will seek philanthropic support for the Kirner Kosky Scholarship Fund through its Centenary Campaign.
Guests attending the announcement, which was held at Footscray Town Hall, included Mr Ron Kirner and Mr Jim Williamson, the Honourable Steve Bracks and Dr Terry Bracks, the newly elected Mayor of Maribyrnong Cameron McDonald, and many community representatives.